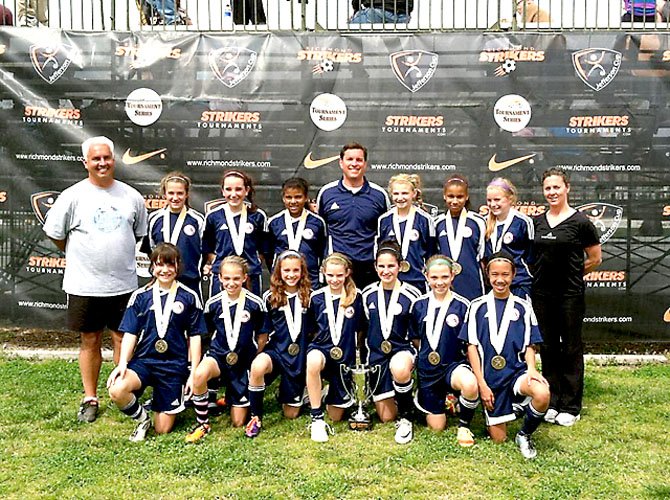 Springfield Storm White followed up its recent Arlington Invitational Spring Soccer Tournament win with their biggest championship victory yet as they garnered the coveted gold medal in the girls' under-12 Championship Division (eight versus eight) of the Jefferson Cup, held March 17 and 18 in Richmond. The Jefferson Cup is one of the largest and most prestigious youth soccer tournaments in the country, attracting teams from approximately 35 states and receiving more than 1,400 applications to play.
Over the weekend of March 10-11, Storm White won the highly competitive Arlington Invitational Spring Soccer Tournament (11 versus 11). And last week, the locals took the title at the Jefferson Cup.
"We are very proud of our Storm players, who showed both great skill and joy in their first full-sided matches (Arlington) and in their first Jefferson Cup," said head coach Mark Heilbrun. "The kids simply love to step on the field and play, and these two tremendous tournaments are a reflection of that and also provide a great foundation for Storm White."
Storm White, which receives additional professional training from Gayle Wilson, Curtis Wilson and Tony Howard, is generously sponsored by local businesses Kay Jennings Springfield Toyota; Mannix Heating and Cooling; Peter K. Cocolis, Jr., DMD, Family and Cosmetic Dentistry; Elhady Orthodontics; and Glory Days Grill. Storm White is a part of the Springfield/South County Youth Club and competes within the Washington Area Girls Soccer League (WAGS).