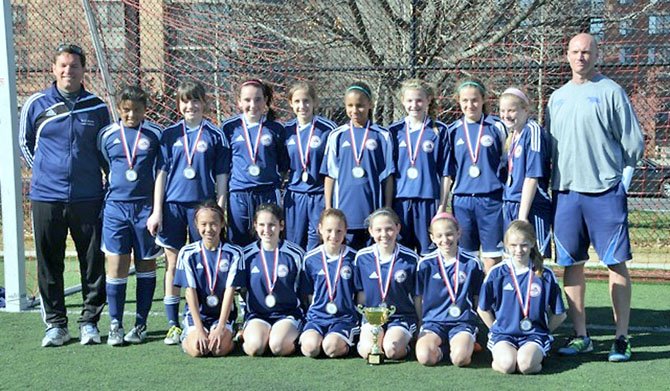 Vienna — The Springfield Youth Club (SYC) Storm White girls' soccer team kicked off their spring season with a resounding win at the highly competitive Arlington Invitational Spring Soccer Tournament, held March 10-11 in Arlington. Competing in the 11 versus 11 Premier Division, Storm White reached the 12-under finals where it defeated Arlington Chaos Red, 4-0, in the title game.
"We are very proud of the Storm players in their first 11 versus 11 tournament," said head coach Mark Heilbrun. "They showed great athleticism, skill and hard work, and brought a great deal of joy to these games. This provides a great foundation for the future for Storm White."
Storm White, under the guidance of coach Heilbrun, receives additional training from Gayle Smith Wilson.
The SYC Storm White also won an even bigger tournament this past weekend (March 16-17) - The Jefferson Cup in Richmond.
Storm White is generously sponsored by local businesses Kay Jennings Springfield Toyota; Mannix Heating and Cooling; Peter K. Cocolis, Jr., DMD, Family and Cosmetic Dentistry; Elhady Orthodontics; and Glory Days Grill. The team is part of the Springfield/South County Youth Club in the Washington Area Girls Soccer (WAGS) League. Team members come from throughout Northern Virginia, including Fairfax Station, Lorton, Alexandria, Burke and Centerville.
The Virginian Memorial Day Soccer Tournament, under new leadership this year, has made several new and exciting changes while holding on to many traditions. The event, held in Northern Virginia, is open to boys and girls select soccer teams from the under-9 to under-19 age classifications. All games will be played on quality fields with all teams playing a minimum of three games. There will be four levels of competition and college coaches and scouts will be on-hand. For more information or to register, visit www.soccertournament.com.

Ten high school basketball teams (boys' and girls' combined) earned Virginia State titles earlier this month. Forty teams opened up championship week at Virginia Commonwealth University's Siegel Center before 10 were ultimately crowned Virginia High School League (VHSL) champions for the 2011-12 winter season.
East Rockingham High, from the Shenandoah Valley, claimed its first state single-A, Div. 1 (smaller schools) girls' championship, beating Covington (Pioneer District), 66-42. In Div. 1 boys, Galax High (Region C) won its second straight title, defeating Amelia County, 66-49.
In Group A, Div. 2 action, the George Mason High girls, of Falls Church, won a state title for the third time in four years with a 50-47 win over Gate City. On the boys' side, Lancaster (Northern Neck District) claimed its first championship, defeating George Mason, 66-51.
In Group AA, Div. 3, the Robert E. Lee (Staunton) High girls, state runner-up two of the past three years, won the state crown for the first time since 1994 with a 44-37 finals victory over Liberty High of Bealeton (Cedar Run District). Brunswick High (Southside District), making its fifth straight finals appearance, repeated as the boys Div. 3 champs with a win over Cave Spring (Roanoke), 48-33.
The Millbrook High (Winchester) girls' team, state champions the past two years in Div. 3 classification, won the Div. 4 crown this winter with a 63-38 win over Courtland High (Spotsylvania). In the boys' finals, Christiansburg (River Ridge District) won its first title with a 70-69 overtime win over Grafton (Bay Rivers District).
In Group AAA, the local Oakton High girls, members of the Northern Region, defeated defending champ Princess Anne (Virginia Beach), 58-39, for its first-ever state crown. On the boys' side, Hampton High won its fifth overall championship and first since 1997, defeating Petersburg High, 64-51.
Also of note in regards to the state basketball playoffs, the Sportsmanship Award winners were: Group A, Div. 1 – Galax High girls and Galax High boys; Group A, Div. 2 – Gate City High girls, and George Mason High boys; Group A, Div. 3 – Liberty High girls; Group A, Div. 4 – Millbrook High girls, Heritage High (Lynchburg) boys; Group AAA – Highland Springs High girls.
NoVa West Lacrosse is now accepting registrations to try out for its 2012 Summer Select Teams. Tryouts will be held April 22, 29, May 6, 13, 20 and 27, with teams being announced on May 28. NoVa West Lacrosse plays in the most competitive recruiting tournaments during the summer. It also has assembled an outstanding coaching staff. Register today for a tryout at www.novawestlax.com.

Cougar Baseball Summer Camp will take place throughout July on the following dates: July 9-12 (Little Leaguers ages 6 to 11); July 16-19 (ages' 11-through high school); July 23-26 (Little Leaguers ages 6 to 11). Camp sessions will be held at Oakton High's Tom Hall Baseball Field; with daily camp times from 9 a.m. to 1 p.m. The Camp Director is Oakton High varsity baseball coach Justin Janis. Cost is $140 per camper, with all funds being used to support Oakton High baseball. Checks should be made to OHSABC, and sent to: Oakton High School, 2900 Sutton Rd., Vienna, Va. 22181. The Oakton Cougar Baseball Camp is intended to teach players solid fundamental baseball skills. The primary goal is to provide each player with the instruction, knowledge, and evaluation necessary to raise their level of play. Instruction will emphasize the core values of Oakton Cougar Baseball: Excellence, Teamwork, and Integrity.
The Virginia Renegades, a college baseball prep/showcase program, has teamed with Steve Johnson of the National Hitting Association to create a college baseball development program for high school players.
Johnson helped develop a program that combines functional strength training, with cross-specific motor learning drills. The program emphasizes the Four Corners of Performance: biomechanical efficiency, functional strength development, mental/emotional support, and nutrition/hydration supplementation. All are necessary components in maximizing player performance.
The Renegades have been invited to participate in the World Scout League (WSL), a national level organization that works with colleges nationwide to enhance the college recruiting experience. All WSL teams from across the country compete locally, regionally, and in a National World Series Showcase held at the Roger Dean facility in Jupiter, FL.
The Renegades' primary goal for players is to `Find Your Best.' All players who make the Renegades will only need to pay for their uniforms. All other expenses will be covered as part of the Renegades program. Currently, the Renegades are looking for talented, focus-driven players for their 15-under team. The Renegades can be contacted through GM Pat Gaffney at 703- 559-2181 or at pgaffney@virginiarenegades.org. For more team information, go to virginiarenegades.org.
Jimmy Lange of Great Falls successfully defended his World Boxing Union (WBU) Jr. Middleweight title, and picked up the North American Boxing Union (NABU) belt as well, in a hard-fought, decisive victory last month. The popular hometown favorite defeated veteran Ruben Galvan of Hammond, In., sweeping all 12 rounds before a partisan Patriot Center crowd.
Lange (38-4-2, 25 knockouts) began by taking advantage of his longer reach and a powerful jab, giving Galvan precious few opportunities to come inside. But having faced such boxing luminaries as Zab Judah and Julio Cesar Chavez Jr., Galvan was neither intimidated by Lange's stature nor the pro-Lange Patriot Center crowd.
Things took a strange turn in the third round when Galvan began showboating, dropping his hands, sitting on the ropes, and inviting Lange to take his best shot, which Lange obliged. However, Galvan's antics didn't affect Lange who continued stalking his opponent, peppering him with an effective jab while controlling the action.
"He was a clown, but you have to be careful, a lot of people try to draw you in like that," said Lange. "I was expecting a knockout and it just didn't come."
Galvan responded, "I was trying to frustrate people, I'm Mexican, that's what I do. I do that to all my opponents, especially when they are bigger than me."
It was the 14th Patriot Center boxing card headlined by Lange.
Undefeated Todd Wilson of Fairfax, in an undercard bout, made his traditional ring entrance, led by a bagpiper, to face Fernando Basora, originally from Puerto Rico and now fighting out of the Bronx, N.Y. In the third round Wilson had Basora against the ropes, when he was rocked by a Basora counter-punch, and he barely stayed on his feet in the fifth round behind a flurry of Basora punches. But Wilson came back to score a knockdown in the sixth round, winning by unanimous decision.
The Great Falls Everton Blue U11 Boys competed in both the Arlington Cup and nationally ranked Jefferson Cup (Richmond) the first two weekends in March. From March 3-4, Everton competed in the Arlington Cup and swept the competition, bringing home the Championship Cup to Great Falls. The following weekend, Everton traveled to Richmond to compete in the nationally ranked Jefferson Cup. There, they faced stiff competition and defeated their first three opponents to make it to the championship again. However, they lost 3-1 to a strong YMS Wolves team from Pennsylvania. Nonetheless, Everton did an outstanding job and made the parents and the Great Falls Soccer Club proud.
Westfields Golf Club Hosts Prestigious IJGT Event: Herndon's Luo earns comeback victory in girls' division.A highly skilled group of junior golfers competed in the 36-hole International Junior Golf Tour (IJGT), the Clifton Classic, at Westfields Golf Club over the St. Patrick's Day weekend. This was the first Northeast event of the spring season and the fast greens made the Fred Couples designed course quite a test for the juniors.
In the Boys 15-19 Division, Christopher Gabriele of Cold Spring Harbor, N.Y. took home the trophy after carding rounds of one-over-par 72 and two-over-par 73 for a weekend total of 145. Gabriele, who stepped up to the first tee on Sunday's final round holding a three-stroke lead, was able to card such great rounds due to eight total birdies in the 36-hole event. His back nine of his first round gave him a huge surge with five birdies. After the round he said, "The greens were firm and difficult, but I was able to figure them out which lead to my victory."

Four juniors tied for second place in the division, posting a tournament total of 151. Ian Hildebrand from Purcellville posted rounds of 79 and 72; Stewart Rickenbach, from Doylestown, Pa., carded rounds of 79 and 72; Scott Jaster of Bryn Mawr, Pa., shot rounds of 76 and 75; and Tomas La Morte, of Haworth, N.J., shot rounds of 77 and 74.
In the Girls Division, Julie Luo of Herndon took home the trophy in her first IJGT event with a tournament total of 159, eight strokes better than her competition. Entering the final round four strokes back, Luo was able to hit almost every fairway, which led to rounds of 13-over-par 84 and four-over-par 75. Luo was able to card two birdies en route to her solid second round score.
Stephanie Bosdosh of Clarksburg, Md., and Adrienne Schmidt of McLean tied for second, both posting a tournament total of 167. Bosdosh, who had the first round lead with a nine-over-par 80 finished the tournament shooting an 87. Schmidt had similar success for the tournament with rounds of 86 and 81.
Rij Patel of Hunt Valley, Md., took home the Boys 14 and Under Division trophy with a tournament total of 154. Gus Minkin of York, Pa., took second in the Boys 14 and Under Division with a tournament total of 156, just two strokes back from Patel. Vishal Giri of Chantilly carded a tournament total of 157 to take third.