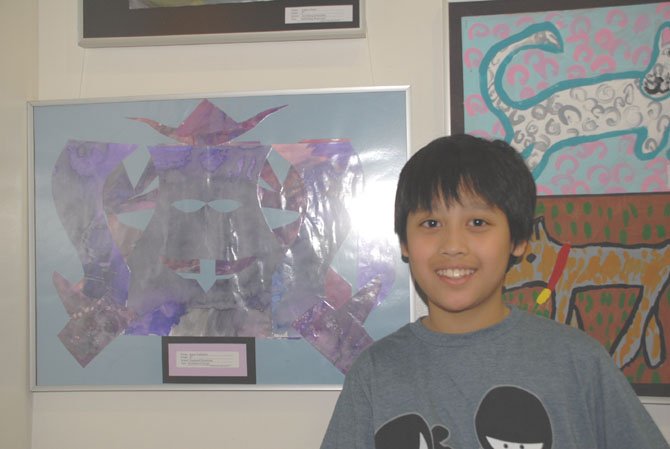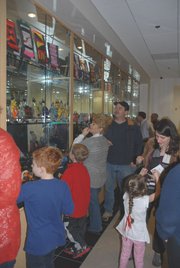 Sunny, spring-like weather brought out a large crowd Sunday, March 11 to attend a reception in celebration of Youth Art Month at Reston Community Center Lake Anne. More than 100 pieces of art is on display at RCC Lake Anne representing work done by Reston elementary students of all grades, in a variety of mediums.
Framed student art work done in paint, chalk, watercolor, collage, oil pastel and yarn covers the walls of the JoAnn Rose Gallery at RCC Lake Anne. The 3-D gallery, which was part of an expansion of RCC Lake Anne completed this past summer, features two long display cases of work done in clay, including teapots, animals, and masks.
Invitations to attend the reception were sent home with students whose art is on display the week previous. Sunrise Valley art teacher Heather Warstler surmises that the children whipped out their invitations to show their parents as soon as they got home.
"When the students walk through that door," said Warstler, indicating the doors to RCC Lake Anne, "they are grinning from ear to ear. They are so very excited to have their work on display. Art and the displaying of art work like this is so important for their development. It is so wonderful that RCC gives us the space to do this."
Cheri Danaher, arts education director for RCC, said this display of student artwork has been held every year for as long as she can remember. "I have been at RCC for 21 years and in this position for 16 and every year we have had the schools display their work. This year, thanks to RCC's expansion, we now have additional space for 3-D art."
Ian Matthews, a third grader at Hunters Woods, who had a swan-shaped clay vessel on display, said that having his work on display was "very, very special." Ian's mother, Dawn Matthews, agreed and said that it was "impressive that his piece was chosen."
Nandita Venkataraman, a second grader at Hunters Woods, had a picture she painted of herself and a friend on display. "I feel good that my picture is up there," she said.
Justin Yudhistira, a fifth grader at Dogwood, had a piece done with cut-out paper and paint showing symmetrical design on display. He, too, agreed that it is nice to have his work on display.
"This event shows how important art is in our schools. A lot of this work is connected to what the students study. It is a different type of learning, using creative talents. This event is a great way to bring the community together and show them what their children are doing in art. It's just a lovely event," said Terraset art teacher, Mary Wehle.
The eight elementary schools participating in the exhibit are: Buzz Aldrin, Armstrong, Dogwood, Forest Edge, Hunters Woods, Lake Anne, Sunrise Valley and Terraset.
Pieces in the JoAnn Rose Art gallery will remain on display through March 25; 3-dimensional art will remain on display through April 23.
Youth Art Month is an annual, nation-wide observance held each March and sponsored by the Council for Art Education to emphasize the value of art education for all children and to encourage support for quality school art programs.