Teen Talk Barbie, who said "math class is tough," did not last long on store shelves when she was issued by Mattel in 1997, but her message has endured. Studies show that the number of girls pursing degrees or careers in math and science fields continues to lag behind their male peers due in large part to stereotypes about appropriate male and female professions. In an effort to reverse this trend and to encourage girls to pursue education and careers in math and science fields, the 21st annual Girls Excelling in Math and Science (GEMS) Conference was held on Saturday, March 10 at Dogwood Elementary.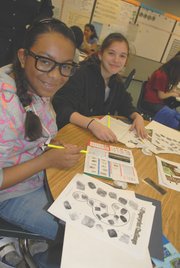 MORE THAN 200 Reston and Herndon fifth and sixth grade students participated in this year's conference. Many of the girls also take part in GEMS Clubs at their schools or were encouraged by their teachers to take part in Saturday's conference. All are interested in math and science.
"I came today to have fun," said Dogwood sixth grader Damari Abrego.
Seated next to Abrego was Dedra Uzoka, also a sixth grader at Dogwood, who said that she loves science.
Fellow Dogwood student, fifth grader Keana Dunbar said that her best subjects are math and science and that she loves engineering.
Also from Dogwood, fifth grader Anna Hutzler said that she likes math and she came to Saturday's conference "to learn more."
Conference organizers, Linda Martin, Dogwood's Advanced Academic Resource teacher, and members of the Reston-Herndon branch of the American Association of University Women, brought together more than 30 presenters to lead the girls in three 50-minute workshops.
"I wish someone had pushed me toward science when I was in school."

— Caroline Buehler
Martin said that many of the presenters participate in the conference year after year. Approximately half of the presenters are science professionals from Lockheed Martin, Dogwood's corporate sponsor. In addition, Martin said that they "really believe in bringing high and middle school students back to Dogwood and giving them an authentic learning experience as a presenter." Six of the presenters were students at Langston Hughes Middle, South Lakes or Thomas Jefferson high schools.
Other presenters included a doctor of veterinary medicine, an Air Force captain, the chief information officer for the White House and many more. All women who have majored in, or in the case of the middle and high school students plan on majoring in, science or math fields.


IN THE WORKSHOPS the girls explored topics such as competing in a gum drop challenge (building structures with gum drops and toothpicks to endure weight), an egg drop challenge (using padding materials to protect an egg from a two story drop), fingerprint analysis, building a solar car, smashing strawberries to extract DNA, talking about G-forces with an Air Force pilot and building model paper airplanes, studying animal x-rays and discussing the care of animals with a local veterinarian.
Many of the presenters spoke of their desire to give back to the community and to encourage girls to excel.
"I went to school for graphic design. Looking back on my education, I felt I was never pushed toward science. Once I completed my degree and began working in my field, I realized that my strengths really lie in the science field. So, I went back to school and now I am working toward a degree as a physician's assistant. I wish someone had pushed me toward science when I was in school," said presenter Caroline Buehler.
"I grew up in the math world. I have eight siblings, and seven have math or science degrees. I was introduced very early to math and science. That was my passion. It all started at this age. This is my way to give back to the community," said presenter Lynette Drake, who is an environmental engineer with Lockheed Martin in Bethesda.
"I've been involved with this conference for so many years and I am still blown away every year," said former AAUW president, Stephanie Abbot. "I hope this conference will capture these girls' interest and lead them to continue their education in these fields."