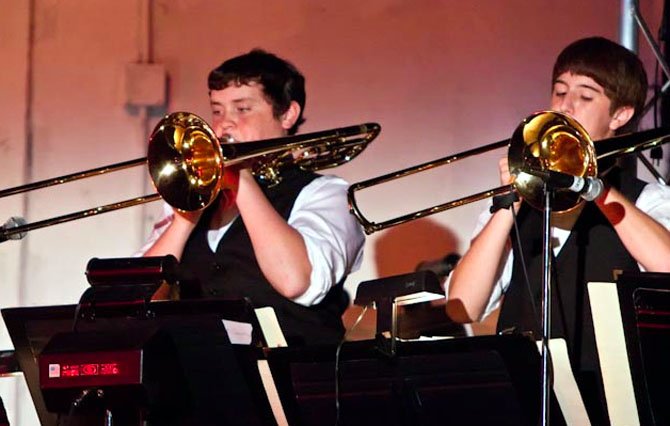 Jazz Festival Schedule
FRIDAY/MARCH 16
Performance Time/ School
4:00 p.m. Workshop Jazz
4:20 p.m. Eagle Ridge MS
4:40 p.m. JL Simpson MS
5:00 p.m. George Washington MS
5:20 p.m. Stone MS
5:40 p.m. Rachel Carson MS
6:00 p.m. MS Awards/Dinner
6:25 p.m. West Springfield Guitar 2
6:50 p.m. Westfield HS Guitar
7:15 p.m. Colonial Forge 2
7:40 p.m. West Springfield Guitar 1
8:05 p.m. George Mason HS
8:30 p.m. Walter Johnson High School Combo
8:55 p.m. Break
9:10 p.m. West Springfield Gypsy Jazz
9:35 p.m. Colonial Forge 1
10:00 p.m. Albemarle HS
10:25 p.m. Combo Awards
SATURDAY/MARCH 17
Performance Time/ School
8:00 a.m. Robinson SS 2
8:25 a.m. Fairfax HS
8:50 a.m. Stonewall Jackson HS
9:15 a.m. Sherando HS
9:40 a.m. WT Woodson
10:05 a.m. Prelude
11:05 a.m. Robinson SS 1
11:30 a.m. Manassas Park HS
11:55 a.m. Oakton HS 2
12:20 p.m. Flint Hill HS
12:45 p.m. Alan Baylock Jazz Orchestra
1:55 p.m. Yorktown HS
2:20 p.m. Westbrook HS
2:45 p.m. Washington-Lee HS
3:10 p.m. National Jazz Workshop Band
3:50 p.m. Westfield HS
4:15 p.m. South County
4:40 p.m. Oakton HS 1
5:05 p.m. McLean HS
5:30 p.m. Walter Johnson High School
5:55 p.m. Colonial Forge HS
6:20 p.m. Lake Braddock HS
6:45 p.m. Albemarle HS
7:10 p.m. Chantilly Jazz
Chantilly — The sounds of smooth, cool jazz will fill the air during the 32nd annual Chantilly High Invitational Jazz Festival. It's slated for Friday-Saturday, March 16-17, in the school auditorium.
"Almost 40 bands are coming from Virginia and Maryland, and even one from Connecticut," said Chantilly's Band Director, Drew Ross. "We're fortunate to have a large number of fantastic jazz programs in our area, so we invite as many bands as we can."
The event is free to the public and runs March 16, from 4-10:30 p.m., and March 17, from 8 a.m.-9 p.m. So audience members may come and go as they please to listen to whichever bands they want to hear. (See schedule.)
"March is also 'Music in Our Schools' month, so it's a great way for people to come into Chantilly and see these groups, plus a small sampling of what Chantilly does," said Ross. "The audience will be blown away by group after group and seeing how talented these musicians are. It's overwhelmingly exciting to watch."
Middle-school bands, as well as high-school jazz combos and big bands, will be performing. They include Westfield High's guitar combo and big band, Stone Middle's band, Robinson Secondary's two big bands and Chantilly's two big bands.
"Each combo and band has different styles, and sometimes they play pieces never heard before, on top of the standard repertoire," said Ross. "I'm as old as this jazz festival, so it's a daunting task to run something that's been around as long as I have."
He said the event provides an opportunity for middle- and high-school students to "share a stage and play music for an appreciative audience. They also play for three, professional adjudicators and six to eight clinicians who provide feedback on their performances."
In addition, each middle-school band and high-school band and combo will vie for first-, second- and third-place awards in their divisions. "The top three, high-school bands compete at the end of the day on Saturday in a battle of the bands to determine the jazz-festival champion," said Ross. "Each of the three bands gets a trophy."
Awards are also presented to outstanding soloists and rhythm-section players, and GMU gives scholarships to participate in its Summer Jazz Workshop. Chantilly High also awards three, $500 scholarships to outstanding senior musicians who plan on majoring in music in college.
They're funded by donations from three Chantilly band alumni — Mark Brandt, Shaun Jurek and Nathan Panning — who perform together in a group called The Mark Brandt Trio. They also work as weekly clinicians with the Chantilly Jazz musicians as they gear up for this festival.
Besides the school bands, three feature acts with local ties will also perform:
Prelude, led by Centreville resident Dave Detwiler, a former Army Blues trumpeter who teaches music and still plays professionally;
The Alan Baylock Jazz Orchestra. Baylock lives in Centreville and is the arranger for the Air Force's Airmen of Note and the artist in residence at Shenandoah University.
The National Jazz Workshop Invitational Big Band, directed by Matt Niess and including current, local high-school musicians.
Performing from Chantilly High are its two big bands, the Chantilly Jazz and Workshop Jazz, each with 18-25 musicians. Directed by Ross, the Chantilly Jazz is the school's advanced jazz ensemble and will play several numbers. Said Ross: "We're doing a set that's old, new, borrowed and blue."
There'll be a driving, funk tune by Gordon Goodwin called "Get in Line," plus a Chick Corea song, "Spain." There's a new piece, "Jackson Square," that's performed in "a New Orleans, uptempo, celebratory style," said Ross. "We're also doing a Charles Mingus song, 'Boogie Stop Shuffle,' that I borrowed from Westfield's jazz director."
The Workshop Jazz band, directed by Chris Singleton, will play numbers including "Manteca" by Dizzy Gillespie and Chano Pozo, as well as "Lullabye of Birdland," which refers to legendary jazz saxophonist Charlie "Bird" Parker and also to the Birdland Jazz club in New York, which was named after him.
Westfield Jazz Ensemble Director Bill Schnepper is bringing the school's advanced group, comprised mainly of juniors and seniors. The class meets each day and averages about 20 students a year.
"Our head band director, Steve Panoff, and I believe that a well-rounded band experience includes both concert and jazz experience — even if the students' experience is just going to a great jazz concert," said Schnepper. "Many of our students participate in our after-school jazz band, which meets Mondays after marching band season is over."
He said Westfield's young musicians love going to Chantilly's jazz festival. "I've been at Westfield for six years and have taken our jazz bands every year I've been here," said Schnepper. "This year, we're playing a nice funk tune called 'Heart of the Matter,' a great swing piece called 'The Joy of Cookin' and a mambo arrangement of 'Birk's Works.' We love hearing all the professional groups that perform at the jazz festival, as well. [For us], The Alan Baylock Orchestra is always a highlight."
And that's why the jazz festival is so cool, said Ross, "because it's unique. There are very few jazz festivals in the United States that feature such a wide variety of musicians and music. Aside from the middle- and high-school bands, we showcase professional bands and local talent that the audience might not otherwise get to hear and see."
However, it doesn't come together overnight. "During last year's jazz festival, we were already taking notes and planning this year's festival," said Ross. He also praised the Chantilly Band Boosters — especially festival coordinators Liz and Tim Lisko — who, he said, "have gone above and beyond, organizing the commemorative T-shirt designs, banquet, trophies, scholarships and advertising. Tim even wrote a computer program for judging this year's bands."
With two days worth of entertainment on tap, it'll be a full weekend of music. And, said Ross, "If the audience likes what they see, they're invited to return to Chantilly, May 23-26, for the 26th annual Jazz & Pizzazz show."