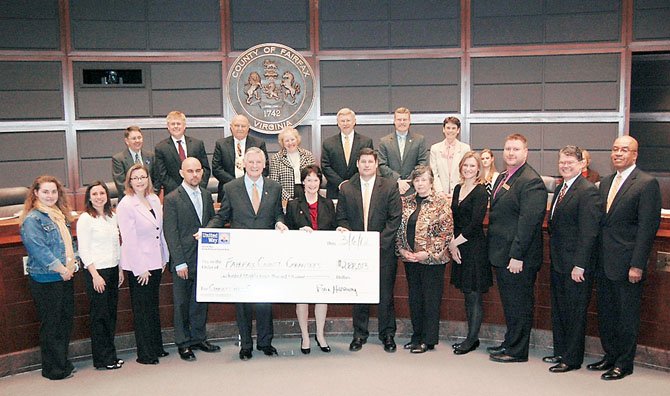 The United Way of the National Capital Area (United Way NCA) awarded 27 grants totaling $288,013 to 23 local nonprofits during the Fairfax County Board of Supervisors meeting Tuesday, March 6.
The funds were raised through designations to the Fairfax/Falls Church Community Impact Fund in United Way NCA's annual workplace giving campaign. Each of the grants directly addresses United Way NCA's focus areas of education, health and financial stability.
"United Way's Community Impact Fund has served thousands of Fairfax County residents by helping to provide essential services to those fighting to survive," said Paul Taffe, United Way NCA's Fairfax Regional Council Co-Chair. "As the region continues to struggle with slow economic recovery, there are an unprecedented number of people and families facing hunger, homelessness and the most difficult of life challenges."
Local Grantees
Alzheimer's Family Day Center, Ayuda, Bethany House of Northern Virginia, Computer CORE, Herndon-Reston FISH, Just Neighbors Ministry, KEEN Greater DC/Kids Enjoy Exercise Now, Lutheran Social Services of the National Capital Area, Main Street Child Development Center, National Capital Poison Center, Neediest Kids, Northern Virginia AIDS Ministry, Northern Virginia Dental Clinic, Northern Virginia Family Service, Planned Parenthood Association of Metropolitan Washington DC, Prevention of Blindness Society of Metropolitan Washington, PRS (Psychiatric Rehabilitation Services), SCAN (Stop Child Abuse Now) of Northern Virginia, Shelter House, The SkillSource Group, United Community Ministries, Western Fairfax Christian Ministries (WFCM), and The Women's Center.
David Hunn, President and CEO of The SkillSource Group, said the Vienna workforce development company will use its grant to expand the Ticket to Work program by hiring a part-time job-developer who will serve as an advocate and employment placement coordinator for disabled job-seekers enrolled in the program.
"The job developer will work to match the skills and interest of our adult job seekers with private sector employees throughout Fairfax County," Hunn said.
Another grantee was the Northern Virginia Dental Clinic, which provides oral health care to low-income residents age 18 or older.
Oral health care for adults is not a mandated service under the Virginia Medicaid program, so a significant number of the adult population who are very close to the poverty level do not typically have access to dental care.
"Being awarded a Community Impact Fund grant assists the clinic with operating expenses, such as materials and staffing," said Thomas Wilson, the clinic's executive director.
"The contributions from the Fairfax/Falls Church community demonstrate a commitment to joining together to ensure that programs in education, health and financial stability can continue their essential work," said Bill Hanbury, President and CEO of United Way NCA. "Each of the Community Impact Fund grants will have an immediate and positive impact on each of these vital organizations."
For more information about United Way of the National Capital Area, visit www.unitedwaynca.org.