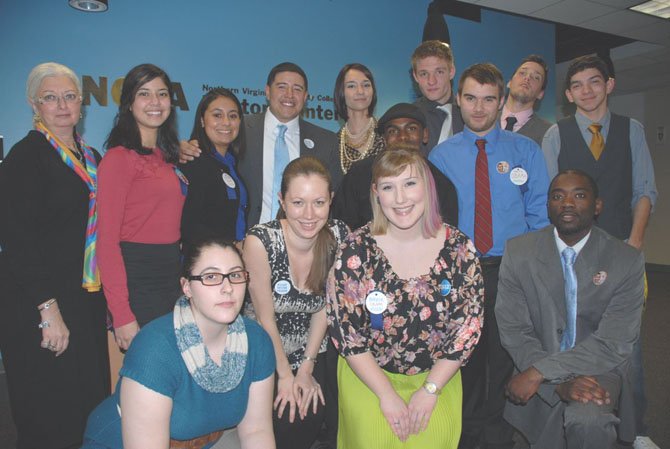 Republican Presidential candidate Mitt Romney triumphantly entered the convention area. He was preceded by his running mate, Ron Paul. This convention was not in Tampa, but rather in a Northern Virginia Community College classroom in Reston. The students in Professor Rosemarie Pelletier's American National Politics class participated in a mock national convention on Tuesday, Feb. 28 to predict the Republican candidate and running mate and to present the Democratic platform.


AT THE BEGINNING of the semester, the students were divided into "Democrats" and "Republicans." In the weeks preceding the convention, they researched party platforms and key elected officials. This mock convention was their mid-term assessment to demonstrate what they learned about party policies, particularly differences between the parties.
"I hope that through this exercise, the students will better understand party politics and understand where the two parties stand on the issues," said Pelletier. "It's a greater learning opportunity for them to do the research on their own than to have me lecture."
In addition to predicting the Republican candidate and running mate, the students also presented party issues and platforms. The Republican side had a strong pro-life, pro-trade, anti-regulation platform. The students choose South Carolina Gov. Nikki Haley, played by Ariel Lang, Sen. Marco Rubio (Fla.), played by Robert Kuehn, and Republican National Committee Chair, Reince Priebus, played by Zach Miller, to present the Republican platform. Dan Cook played the role of Paul and Sarah Wright played Romney.
"We choose Romney for the Republican candidate after the South Carolina primary. At that time, it looked like he was going to sweep the primaries. It seemed like a logical choice," said Cook. Fellow "Republican" Kuehn interjected that it still is the logical choice, despite primary wins by Newt Gingrich and Rick Santorum in recent weeks.
Cook continued with a justification of the choice of Paul as running mate, explaining that Paul and Romney's "thinking are so different." He and his fellow "Republicans" felt that Paul best complimented Romney and brought together the disparate factions of the Republican Party.
On the Democrat side, there were less surprises. Incumbent Barack Obama, played by Helder Barberena, entered the convention area with much applause and glad-handing. The "Democrat" students presented a platform based on continued economic growth, a commitment to healthcare coverage, a strong foreign policy, increased equal rights and increased access to higher education. Students Greysi Vasquez, Rose Alfaro, Will Harrison, Errik Hopkins, and Leah Beyers presented the Democratic platform.
Barbarena, playing Obama, sounded very much like the incumbent President, continuing to work toward change: "Nothing will get done this year. Washington is broken. We need a smarter, more effective government where hard work pays off and responsibility is rewarded. We must keep our goal in sight.."


TO PREPARE for the mock convention, the students were instructed to watch previous conventions and try to mimic the style and content of the convention. Also, students researched major party issues to determine the platforms for each party.
"I was surprised by Ron Paul being named as the Republican running mate. I was also surprised that Joe Biden did not speak," said Pelletier following the presentation. "I'm sure if you ask some of them, they would have had no idea prior to this activity the different platforms of the two parties. This is most likely the first Presidential election many of them will be taking part in. Hopefully, this activity makes them more informed about the two parties and their candidates."