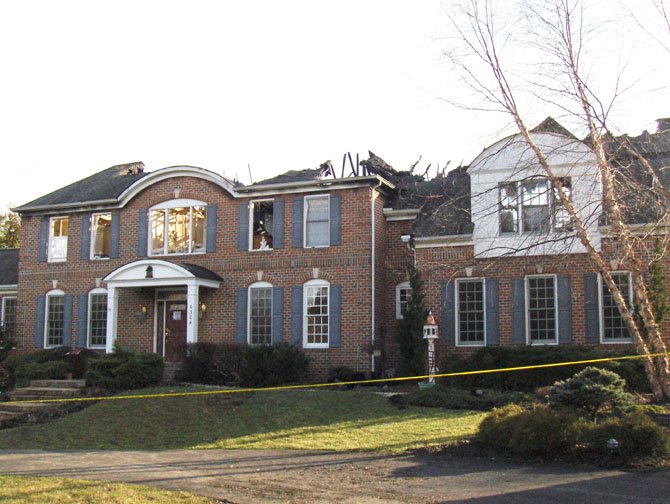 Nine-year-old William Wilson was outside playing football with his dad, Monday evening, in Centreville's Hunt Chase Estates community, when they saw smoke coming from the house next door and the occupants fleeing.
"We saw the dad and a son run out the door," said William. "We saw the flames on the back part of the house, and then they started spreading to the roof."
The blaze began around 4:45 p.m. and quickly engulfed the two-story, nearly 4,800-square-foot home on Hunt Chase Court. Fairfax County Fire and Rescue officials estimate the damage at $750,000. They say the home's smoke alarms went off, alerting the residents in time for them to escape.
More than 30 firefighters from five stations responded to the scene, said fire department spokesman Dan Schmidt. Personnel from both Centreville stations 38 and 17 helped fight the fire, aided by firefighters from the Fair Oaks, Frying Pan and Herndon stations.
First-arriving firefighters encountered heavy smoke and fire emanating from the rear of the home and shooting through the roof. "The whole roof and the second floor were fully involved in fire," said Schmidt.
Firefighters initially tried to quell the flames from inside the house, but were forced to deal with them from outside, instead, due to the overwhelming amount of fire on the second floor and in the attic. So, said Schmidt, "They attacked the fire from the exterior with large volumes of water."
They were able to bring the blaze under control in about 40 minutes, but then performed extensive salvage and overhaul operations for more than an hour after the fire was extinguished. Explained Schmidt: "They had to go into the walls to make sure there were no hot spots and all the fire was out."
Fairfax County fire investigators on Wednesday determined that the origin of the Hunt Chase house fire was accidental, caused by "improperly discarded smoking materials on the second-floor rear deck."
As for the house, Schmidt said, "It was very close to a total loss."
All five of the single-family home's adult occupants were displaced and received help from the Red Cross. Paramedics transported one of the occupants to the Washington Hospital Burn Center with non-life-threatening injuries.
The family's name has not been made public, but the wife teaches at a local elementary school. "She used to be my sixth-grade math teacher," said William's sister, Georgia, now a seventh-grader at Stone Middle School.
At press time, several of the family pets were still missing; according to Georgia, they had a dog and three cats. When they left the house, said William, a family friend had a dog on a leash and was carrying two cats.
"The black cat jumped out of her arms and ran away because it was scared," he said. "An orange-striped cat was in the basement, and they were hoping it would run out when they opened the door. But no one knows where it is."
Georgia and William's mom, Terry Wilson, said firefighters arrived at the house quickly because "there were already fire trucks on [nearby] Pleasant Valley Road for a motorcycle accident. I was going to call 911 because I didn't know if anybody was home."
Wilson and her family have lived in that quiet, wooded neighborhood, adjacent to the Virginia Run community, since November 2000. She said the family whose house burned built their residence "a couple years" later. "I've known them since they've been here," said Wilson. "[The wife] was just coming home from work, after the fire started, and had to walk up the street because the firefighters closed our street."
During the blaze, she said, "There were a lot of people watching, concerned about whose house it was and if everybody was OK. We brought them water and coats because it was getting colder and we wanted to help."
While the flames raged, said William, he was a little scared. "I was wondering if the fire might get on a tree and spread around," he said. "And maybe a tree might fall on our house."
"The wind was blowing so badly," explained his mother. Looking at the wreckage of her neighbor's home, Wednesday afternoon, she said, "It makes you want to cry."