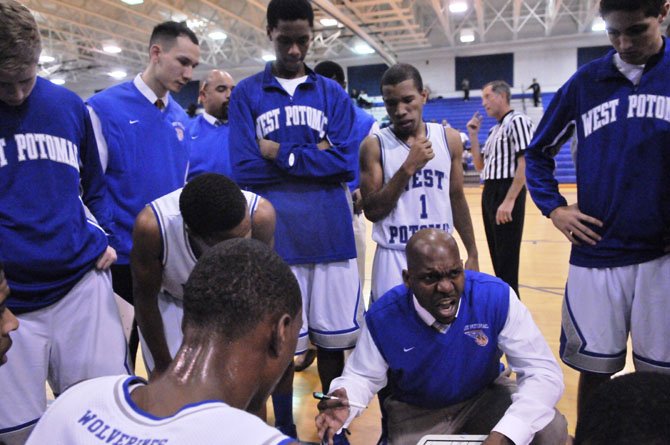 Mount Vernon — The West Potomac boys' basketball team was less than six minutes from dropping its Patriot District opener to the T.C. Williams Titans on Dec. 11 and falling to 1-3.
The Wolverines trailed, 45-35, and had scored just six points in nearly seven minutes. The Titans were on a 7-2 run and appeared in control.
"We knew we could win it the whole time," West Potomac sophomore Kwame Camon said after the game. "We just went hard."
Whether driven by an unwavering confidence or kept afloat by youthful naivety, the Wolverines didn't give up. The result was West Potomac overcoming a double-digit deficit to win a rivalry matchup.
The Wolverines rallied for a 54-51 victory on Tuesday night at West Potomac High School. Point guard Brandon Pressley made a pair of free throws to extend West Potomac's lead to three with 18.7 seconds remaining. At the other end, T.C. Williams missed a 3-point shot and a putback attempt in the closing seconds as the Titans fell to 1-2.
"We feel like we can beat anybody," Camon said, "or hang with anybody in the league."
After an offensive cold stretch, West Potomac caught fire in the fourth quarter, scoring 10 straight points in 74 seconds. Down by 10, Pressley drove to the basket, scored and was fouled with 5:28 remaining. The senior buried his ensuing free-throw attempt to pull the Wolverines within seven at 45-38. Moments later, Demornay Pierson-El came up with a steal and drove the rim for a layup, cutting the deficit to five. Camon scored and was fouled with 4:20 remaining. He made the free throw to pull West Potomac within two. Seconds later, Camon came up with a steal and laid the ball in the basket to tie the score at 45-45.
"We knew we could win it the whole time. We just went hard."

— West Potomac sophomore Kwame Camon
Back-to-back buckets by TC gave the Titans a 49-45 advantage, but West Potomac again tied the score, thanks to a putback by senior guard Caleb Williams and a pull-up jumper by Pressley. A Pierson-El free throw gave the Wolverines a 50-49 advantage and Camon made a pair of free throws to extend the lead to three.
T.C. Williams junior Jeremiah Clarke scored and was fouled with 30.7 seconds remaining, but came up empty on his free-throw attempt, leaving the Titans trailing 52-51. TC would not score again.
"They got tougher and we didn't," TC head coach Julian King said. "They were down 10, they're at home, they have nothing to lose and they just put it all on the floor and we didn't match their toughness and their intensity."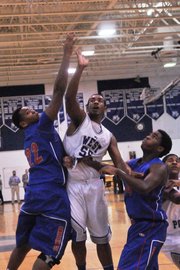 Camon, playing in just his fourth varsity contest, scored a game-high 21 points and grabbed nine rebounds. The left-handed shooting guard scored 12 of West Potomac's 25 first-half points.
"We went to him," West Potomac head coach David Houston III said. "… I could see early on he had the hot hand."
After Camon drove the basket and tied the score at 29-29 with 4:32 remaining in the third quarter, West Potomac fans chanted "He's-a-sopho-more!"
Camon said his offensive mentality is "just go as hard as I can and attack my opponent. I know if I'm coming at him full speed, I'm pretty much un-guardable."
Pierson-El scored nine points off the bench in his second game back from injury. Pressley and Javon Trice each scored eight points for the Wolverines.
Trice, a 6-foot-2 post, grabbed 11 rebounds.
"That was what we asked him to do: just keep hitting the boards, keep hitting the boards, run these [TC] big guys," Houston III said. "… I'm really pleased with what he did."
Williams scored four points and grabbed nine rebounds for West Potomac.
TC committed 18 turnovers. With the graduation of point guard Daquan Kerman, a three-year varsity starter, King is still searching for a primary ball-handler.
"Going into the season, we knew that we'd have to have some people handle the ball by committee," King said. "Right now, as we go through the season — unfortunately this is a district game — we're trying to figure out who is going to be our point guard."
Senior guard Javon Wilson and Clarke each scored eight points for TC. Mert Ozkaynak and Malik Carney each scored seven points and Landon Moss added six.
West Potomac improved to 2-2, including a 97-92 double-overtime victory at Herndon on Nov. 30. The Wolverines lost to Mount Vernon, 63-59, on Nov. 27 and Chantilly, 60-41, on Dec. 7.
"We're a Dr. Jekyll and Mr. Hyde team right now," Houston III said. "We had a great win against Herndon, we lost to Mount Vernon [in a] crazy [fashion] and then we lost to Chantilly. We're just trying to find ourselves right now, trying to figure out, which [we are]: Jekyll or Hyde."
The Wolverines will host Oakton at 7:30 p.m. on Friday, Dec. 14.
"It brings us a lot of confidence," Trice said of the win against TC, "and it definitely shows us what level we can play at."
TC opened the season with a 92-89 triple-overtime victory at Edison on Dec. 7 and lost to Good Counsel, 66-43, the following night. The Titans will host Wakefield at 8 p.m. on Saturday, Dec. 15.
"If it's a district game, this may sound a little arrogant, but we have a bull's-eye on our back," King said of his two-time defending district champion Titans. "Our guys have to understand that you have to bring it a little bit more each time."