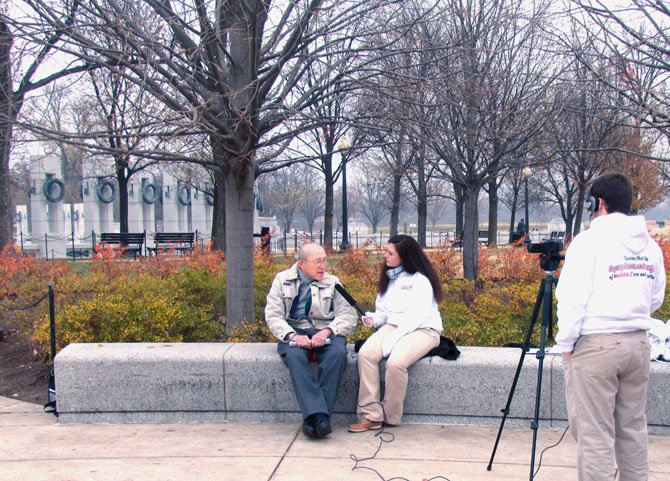 World War II Veterans from Greenspring retirement community were interviewed by local students for the "Meet the Veterans" video project. Just days before National Pearl Harbor Remembrance Day, 12 World War II veterans from Greenspring retirement community in Springfield visited the National World War II Memorial to record their war memories.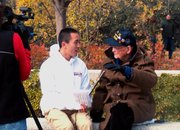 Five seniors from West Springfield High School interviewed the veterans on Saturday, Dec. 1 at the memorial in Washington, D.C. for their senior capstone project.
Veterans from Greenspring made the trip to the memorial to both honor their past and to record their personal stories for posterity.
"These students and the veterans are literally making history," said Jim Percoco, the director of education for Friends of the National World War II Memorial. "In this context, the National World War II Memorial no longer remains a static monument consisting of granite and bronze—it now has a living legacy."
According to the Friends of the National World War II Memorial website, the "Meet the Veterans" project "marks the first time in American history where veterans interviewed at 'their' memorial have their images and stories collected and archived in a manner that allows them to be digitally preserved for posterity and use by family members, educators, and historians, and subsequent generations."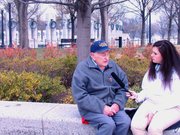 SOME OF THE VETERANS at Greenspring remarked how this was the first time they have truly shared their experiences.
"I realized that I hadn't really sat down with my kids, my grandkids, or even my wife, and shared much of what I experienced during the war," said Greenspring resident and World War II veteran, Eck Muessig. "This project at the memorial honoring World War II vets provided me with that opportunity."
Muessig enlisted in the U.S. Marine Corps in 1943 after graduating from high school, and served with the First Marine Division in the Pacific during the war. He worked with
Percoco to organize the event at the memorial on Dec. 1. Percoco, who taught history at West Springfield High School from 1980-2012, believes this project is critically important to the preservation of the many lessons learned and sacrifices made during World War II.
Participants
Veterans: Cecilia Campbell, Ed DeMeter, Charles Fletcher, Steve Guback, Larry Harper, Ray Kaminski, Fred Leedy, Robert McLaughlin, Eck Muessig, John Parker, Don Reynolds and Arnold Sells.
Students: Reebha Aggarwal, Elizabeth Bowman, Andy Chen, Mason Dumond and Claire Schindler.
"The student/veteran video interview project is, at its heart, an intergenerational experience," said Percoco. "It is not only crucial that the stories of these veterans be saved for posterity, scholars, teachers, and students, but that America's youth understand the price that was paid to ensure their freedoms. The best way to make this a reality is to bring together, in an up close and personal encounter, young people and those who served our nation when they were not much older than the teenage interviewers."
The U.S. Department of Veterans Affairs estimates that the number of surviving World War II American veterans has fallen below the 1.5 million mark this year, which is less than one-tenth of the 16 million who served. With the loss of 600-1000 World War II veterans each day, this project will ensure that many of their stories are not forgotten.
THE FRIENDS of the National World War II Memorial group needs volunteers to welcome and talk with visitors at the memorial. All volunteers must register with the National Park Service as part of the Volunteers-in-Parks program. Training and mentoring are provided. For more information, contact George Kerestes, 703-569-1747, ghkerestes@wwiimemorialfriends.org, http://www.wwiimemorialfriends.org/.