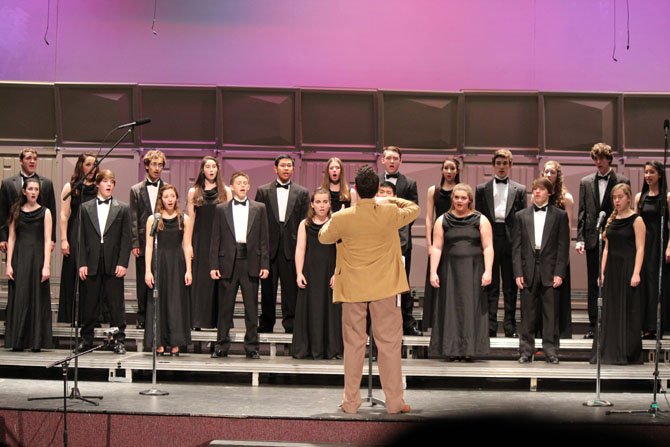 Chantilly — A musical feast for the ears and eyes, Chantilly High's Holiday Spectacular will take the stage Thursday-Friday, Dec. 13-14, at 7 p.m. in the school theater. Living up to its name, this annual event features more than 300 choral, band, orchestra and theater students joining together to entertain the community.
A day earlier, Wednesday, Dec. 12, the school will offer its Tiny Tots show at 9:15, 10:15 and 11:30 a.m. and 12:45 p.m. It's a shorter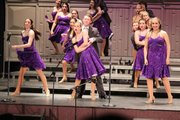 version of the Holiday Spectacular and is geared specifically for children.
Tickets are $10 for the Holiday Spectacular and $5 for the Tiny Tots show at www.ChantillyChoral.org; group rates are available. And this year they're helmed by Chantilly High's new choral directors, Juliana Woodill and Evan Ayars, replacing Glenn Cockrell who retired.
Comprising the choir are 22 students in the Chamber Chorale, plus about 38 students in the newly named Chantilly ShowStoppers (formerly the Touch of Class). And Woodill and Ayars say their talented students are really something special.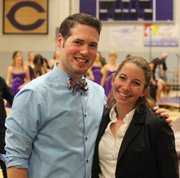 "They'll perform all the songs together as one massive choir," said Woodill. "It's going to be a wonderful night of music."
"It's a staple in the community and we're happily continuing that tradition," added Ayars. "We're excited to be a part of it."
In the Holiday Spectacular, the orchestra will perform "It's the Most Wonderful time of the Year" and "Christmas Eve/Sarajevo 12/24." It will also play "Russian Christmas Music" with the band and choir.
Songs performed by the band and/or choir will be "The Little Mermaid," "Masters in this Hall," "The Grinch," Christmas on Broadway," "'Twas the Night," "Mary Poppins" and "Hanukkah Song."
Just the band will play "13 Days," "Sleigh Ride" and "A Christmas Festival." Theater students will also perform onstage while the musicians perform. Said Ayars: "The drama students will be acting out the Disney stories in wild costumes while the choir students sing the songs from those movies and the band plays."
The Holiday Spectacular will include the Tiny Tots show, whereas the separate Tiny Tots show on Dec. 12 will contain most of the same music as the Holiday Spectacular. It will also feature the theater students performing in "The Grinch" and "'Twas the Night before Christmas," among other vignettes. A highlight each year is the appearance of the "sugarplums" during that poem; but don't blink — they run across the stage quickly.
Both shows are festive, fun-filled family events, and the students have been rehearsing for the past five weeks. Woodill directs Chantilly's show choirs and Ayars directs the concert choirs, and both work well together to have a united choral department.
Woodill graduated from Westminster Choir College in Princeton, N.J., with dual degrees in music education and musical theater. For the past four years, she's taught at Falls Church High, South County Secondary and Westbriar Elementary schools.
Ayars grew up in Fairfax County and attended Langley High. He's a JMU graduate with a bachelor's in music education. Now in his seventh year with FCPS, he taught the past six years at Brookfield Elementary. And, said Ayars, "It's nice to see some of my former students in the music program here."
Both he and Woodill are delighted to be at Chantilly. "It's a really exciting program here," said Woodill. She said it's also a good fit for her because of her background in theater, dance and music. "I'm loving the opportunity to combine music and dance with students who are so excited about performing in show choir," she said. "It's been a whirlwind transition, but we're settling in."
Agreeing, Ayars said, "We're in a good place and we're moving forward. I've really liked the music here because it's so different and more complicated and challenging than what I taught at Brookfield, and it's fun to relate with the kids."
During the Tiny Tots portion of the show, he'll sing the Grinch song and narrate the story — something Cockrell did for years. However, said Ayars, "I have big shoes to fill, but I'm ready for the task."
Woodill called the show "a really good kickoff to the holiday season."
"It gets you in the holiday spirit," said Ayars. And, added Woodill, "It's fun for all ages."