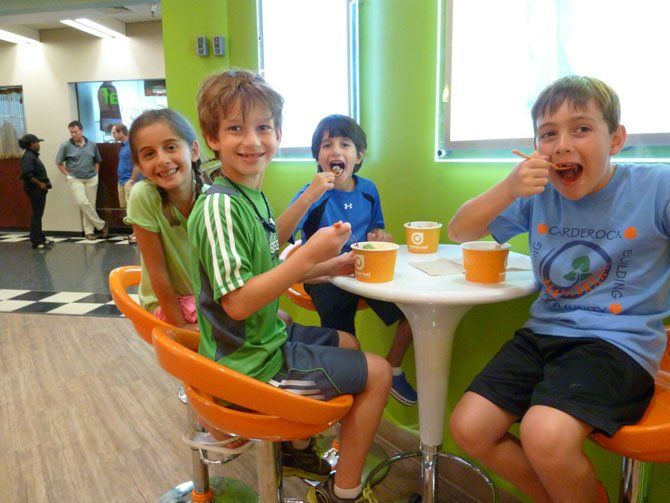 Potomac — "Awesome," said Jacob Fienberg. "The swirl is just so creamy and good," said Jack Feldman as he licks his spoon. "It doesn't really taste like yogurt. It tastes like ice cream," said Max Miller. "The birthday cake tastes just like a real birthday cake," said Jacob's sister Lindsay Fienberg. Jake Schuman and his cousin Andrew Prosen's favorite flavors are orange, brownie batter, birthday cake and cookies and cream. They love topping their yogurt with Swedish fish, gummies, oreos and fresh fruit.
The new Orange Leaf Frozen Yogurt restaurant is a hit with the younger set, but the parents are also raving. "This yogurt is so good. The orange tastes exactly like the creamsicles from my childhood," parent Shari Schuman said. Another parent, Pam Feldman, said, "This is just what Potomac needed. It's healthy and it really tastes wonderful. The fresh fruit is a nice feature too."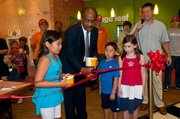 Inside Potomac's Cabin John Mall, the shoppers all seem to have one thing in common — they are all discovering the many flavors of delicious yogurt offered by the newly opened Orange Leaf Frozen Yogurt. The self-serve restaurant features large containers to enable the customer to taste-test from 16 different flavors of frozen yogurt. The next step is to choose from among 32 toppings and then on to the syrups. When the magical concoction has been created, the container is weighed and then the fun begins — enjoying the results.
Orange Leaf is a new business venture by partners Ted Sears of Potomac, TJ Tedesco of Bethesda, and Scott Flipse of Washington D.C. The three friends decided to follow their entrepreneurial spirits and joined forces to open their first Orange Leaf franchise several weeks ago. They will be opening their second store later in the year. County Executive Ike Leggett welcomed the new business venture to Montgomery County at the ribbon cutting ceremony on Aug. 27.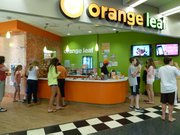 "We are very pleased that we could come into the Cabin John Mall. The community and mall store managers and owners have been extremely helpful and welcoming — and business has already exceeded our expectations," Tedesco said.
The flavors of yogurt have creative names and captions. Cookies and Cream is titled "A Cookie Tuxedo," the Red Velvet Wedding Cake flavor states: "Being guilty never tasted so good," and the lactose-free pineapple is captioned, "Don't let the spikes fool you — it's tasty." All the yogurts, except the lactose-free, are made with skim milk, and allergen information is posted on the wall.
"We have lactose-free, sugar-free and every yogurt is low fat," said Sears. "Our toppings include strawberries, mango, papaya, honeydew melon, papaya, coconut, kiwi, nuts chocolate brownies, candy and more — everything is freshly cut each day. For customers who have nut allergies, we have a separate mobile unit with toppings and spoons that have never touched a nut."
The store will host birthday parties and is available to cater parties, festivals, sporting events and other off-site events. The owners would also like to develop relationships with schools, businesses and organizations. Additionally, they are looking for a school to partner with to design and paint a permanent mural on their wall. For more information, send an e-mail to olcabinjohnmall@gmail.com.
Flipse expressed another goal of the owners: "We want to help the community by giving back. We have already created 10 jobs and are looking to hire more employees, and we would like to partner with local charities and organizations by donating part of our profits to their fundraising causes on specific days." The owners are involved with the "Build Haiti Foundation" and expect to host an event to raise funds for this important cause.
The shop is offering a standing 10 percent discount to anyone who likes them on their Facebook page http://www.facebook.com/OrangeLeafCabinJohnMall and to returning customers who returning customers who check-in or update their status on Facebook. They also give employees of Cabin John Mall a discount. Orange Leaf is open from 11 a.m. to 9 p.m. daily except Sunday when they close at 8 p.m.
In the adjacent Cabin John Shopping Center, five more new tenants have recently opened or will be opening soon. Leila Fine Gifts & Jewels opened in June. The Grilled Oyster, China Jade Bistro, Benny's Bar & Grill and a Pet Valu store will open in the coming months.