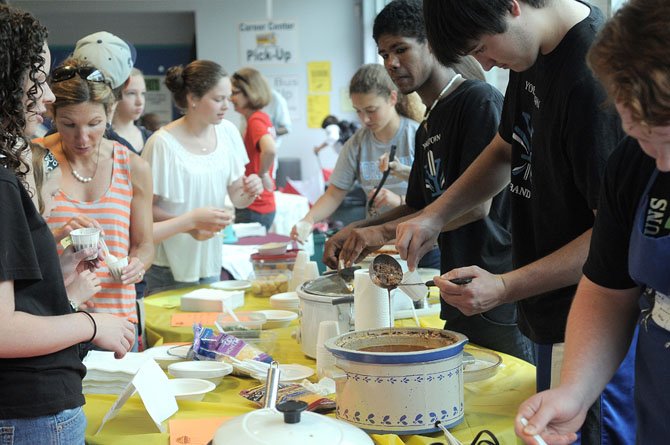 Photo Gallery
Year Round Newcomers' Calendar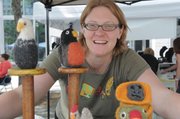 Click Photo for Flash
ONGOING SUMMER AND FALL EVENTS
Arlington — Free concerts every Thursday (Wilson Blvd. and N. Oak Street) in Rosslyn, at 11:45 a.m.-1:30 p.m. through Oct. 25. Call 703-522-6628 or visit www.rosslynva.org.
U.S. Army Band Free Concerts. Held 7:30 p.m. at Kenmore Auditorium through Aug. 24. Visit usarmyband.com for show dates.
Volunteer Work Day at Potomac Overlook Regional Park, 2845 N. Marcey Road, from 10 a.m.-noon, on the first Saturday of each month. Help with the gardens or trails. Call 703-528-5406.
The Horticulture Hotline is available from 9 a.m.-noon, Monday-Friday, year-round at 703-228-6414. Home gardeners are also welcome to visit the Virginia Cooperative Extension Office at the Fairlington Community Center, 3308 S. Stafford St., during these hours.
Exhibition of works by local painters. Showings sponsored by the Arlington Artists Alliance, a nonprofit organization in support of art and artists in Arlington. Visit www.arlingtonartistsalliance.org for location and dates.
The Big Red Caboose at Bluemont is open to visitors during the summer on Saturdays from 10 a.m.-6 p.m. and Sundays from 1-5 p.m. Free for all ages. The caboose is located at 601 N. Manchester St. Call 703-525-0168.
The Ballston Art Market returns to Welburn Square offering original creations for home decor, gifts and personal use, including handmade jewelry, pottery, quilts, wearable art, giftware, watercolors, oil paintings and photography through October. The second Saturday of every month. Different artists exhibit each month, 10 a.m.-4 p.m. A select panel juries the artists. Welburn Square is adjacent to the Metro station at 9th and N. Stuart streets near Ballston Common Mall. Call 202-536-9714.
Ballston hosts a weekly Farmers Market in Welburn Square, from 11 a.m.-3 p.m. Fridays, May through October. Welburn Square is located between N. Stuart and N. Taylor streets, across from the Ballston Metro Station. Call 703-528-3527 or e-mail ballstonvasquare.org/farmersmarket.
Clarendon Farmer's Market has locally produced breads and pastries, organic vegetables, flowers, soap, sorbet and more. Held Saturdays and Sundays from 8 a.m. to noon at Courthouse Parking Lot, 3195 North Wilson Blvd., Arlington. Also year-round on Wednesdays from 3-7 p.m. at Clarendon Metro Station. Visit www.Clarendon.org. Call 703-812-8881.
The Rosslyn Business Improvement District's Farmers Market, Thursdays through October, from 11 a.m. – 2 p.m. at Wilson Boulevard and North Oak Street in Arlington. Bread, farm-fresh fruits and vegetables, herbs, exotic teas, gourmet baked goods, specialty coffee, and Italian marinades and sauces will be available during the market. Visit http://www.rosslynva.org/play/markets.
Columbia Pike Homegrown Farmers Market. Located at Pike Park on Columbia Pike at S. Walter Reed Drive. Market is open every Sunday from 9 a.m.-1 p.m. Call 703-892-2776.
Flea Market and Community Garage Sale. Run by the Arlington Civitan Club, the market is held the first Saturday of every month from 7 a.m.-1:30 p.m., April-November. The event is held at the I-66 parking garage at the corner of N. 15th and N. Quincy streets. Call 703-534-9268 or visit www.rosslynva.org/play/markets.
Arlington Farmer's Market. Fruits and vegetables, cut flowers, plants, meats, cheeses, milk, eggs, wine, honey, Christmas trees and more from as many as 30 producers. Located at the corner of N. 14th Street and N. Courthouse Road, near Courthouse Metro Station. Saturdays, 8 a.m.-noon. Call 703-228-6426 or visit http://arlingtonfarmersmarket.com.
SEPTEMBER 2012
22th Annual Rosslyn Jazz Fest. Saturday, Sept. 8 from 1-7 p.m. Free. Features Joshua Redman, Afro Blue, Rene Marie, The Don Byron New Gospel Quintet and more. In Rosslyn's Gateway Park, North Lynn Street and Lee Highway, Arlington. Visit http://www.rosslynva.org/play/calendar/jazz-festival or call 703-228-1850.
Vintage Crystal. The Fourth Annual Vintage Crystal - A Taste of Wine and Jazz. Sept. 16 from 2-6 p.m. Event fee: $20 includes wine sips, food tastes, entertainment and commemorative glass. Vintage is held in the courtyard at 220 20th Street. The event will feature 30 wineries, 25 restaurants, Latin jazz, salsa dancing, wine tasting classes, tequila, and more.
Clarendon Day. The annual street party held Saturday, Sept. 22 from 11 a.m. to 5 p.m, Clarendon Day features the cuisine of local restaurants, the music of local bands, antiques and collectibles markets, and the art of area craft makers and artists. Visit www.clarendonday.org.
OCTOBER 2012
College Night Fair. Oct. 14 from 7 to 9 p.m. Sponsored by Arlington Public Schools at Ballston Commons Mall on second Wednesday in October. Visit www.Ballston-common.com.
Marine Corps Marathon. The annual marathon sponsored by the Washington Post begins and ends in Arlington at the Iwo Jima Memorial after running its course past Washington's monuments on Oct. 28, beginning at 7:55 a.m. for wheelchair and handcycle participants and 8 a.m. for runners. Call 800-RUN-USMC or visit www.marinemarathon.com/.
Arlington House. Free ticket entry system. Arlington House was the home of Robert E. Lee and his family for 30 years. The house is now a memorial to Lee and is open all year from 9:30 a.m. to 4:30 p.m. The Robert E. Lee Museum and the grounds around the house are also open to the public. On the first Friday in October, the Arlington House opens its doors, giving visitors a chance to see the Arlington House and National Cemetery at night. Call 703-235-1530.
February 2013
The annual Clarendon Courthouse Mardi Gras Parade kicks off on Fat Tuesday — along Wilson Boulevard. The event, known as "the Washington area's largest Mardi Gras celebration," is free and includes floats, beads, music, and many more Mardi Gras celebrations. The parade route runs along Wilson from North Barton to North Irving St.
MAY 2013
Neighborhood Day in Arlington includes countywide events, including neighborhood fairs and street festivals on May 11. Call 703-228-3155, TTY: 703-228-4611.
Walk for the Animals. A pledge walk on May 11 for people and dogs to benefit the Animal Welfare League of Arlington as part of the Neighborhood Day activities. Call 703-931-9241, ext. 280, or visit www.awla.org.
Taste of Arlington on May 19, Sunday from noon to 5 p.m. in Ballston Common Mall. Amazing food from 40 Arlington restaurants. It is held on 4238 Wilson Blvd. Street festival with restaurants, entertainment, crafts, auction and more. Free admission. Visit "http://www.tasteofarlington.com/"
SUMMER 2013
Summer Concert Series. Beginning in June at Lubber Run Amphitheater, at the intersection of North Columbus and 2nd Street North and continuing throughout the summer. Call 703-228-4712.
Netherlands Carillon Concerts. Beginning in early June and continuing through the summer on Saturdays, enjoy guest artists playing the 50-bell Carillon in free concerts at the Carillon on Route 50 and George Washington Memorial Parkway. Concerts are held in May and December and in June, July, and August Saturdays in the evening. Call 703-289-2500. Visit www.nps.gov/gwmp.
Rock at the Row Summer Concert Series. From June through the beginning of August, local rock, blues, and cover bands play on Thursday nights at Pentagon Row Plaza, located at Army Navy Drive and South Joyce Street. And yes, dancing is encouraged. Visit www.pentagonrow.com for more information.
JULY 2013
County Fireworks. The Arlington County Department of Parks and Recreation sponsors an annual fireworks display on July 4 at Barcroft Park, 4100 S. Four-Mile Run Drive, beginning at dusk (approximately 9:15 p.m.). The display lasts about 45 minutes. Visit www.bscl.org
AUGUST 2013
National Night Out. An annual event observed in all 50 states, including several communities throughout Arlington. Arlington County Police sponsors the event to speak out against community crimes, and encourages residents to turn on their porch lights and hold cookouts, ice-cream socials, flashlight walks and other activities that provide opportunities to get to know neighbors. Call 703-228-4123 for more information about a specific date.
Arlington County Fair. The annual Arlington County Fair takes place in mid-August at the Thomas Jefferson Community Center, 3501 Second Street South. The fair features exhibits, family entertainment, rides for children, food and entertainment. Shuttle buses leave from the designated Park and Ride areas regularly. Visit www.arlingtoncountyfair.org.