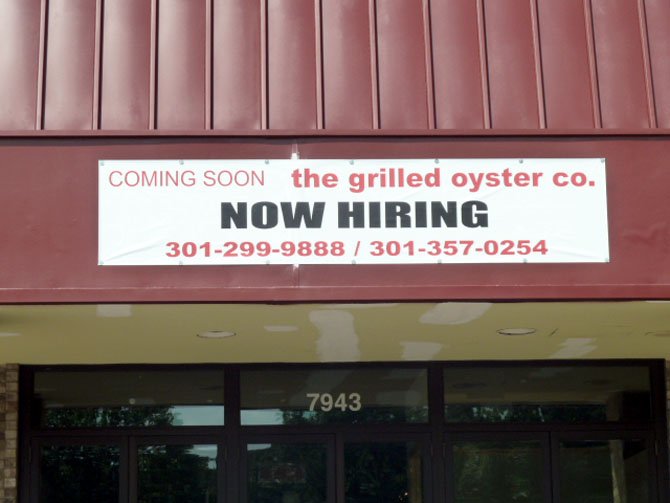 Potomac — Raw, freshly shucked oysters, Chesapeake Bay crab dishes, grilled clams, local farm chopped salad, prime rib, blackened chicken wings — these menu items and much more will be featured at the newest restaurant in the Cabin John Shopping Center. According to owner Rick Dugan, The Grilled Oyster Company will be opening the last week of August or the first week in September.
The Grilled Oyster Company is moving into the former Pomegranate Restaurant space, next to the Cabin John Shopping Center Giant Food store.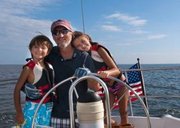 "My wife Valerie and I have been searching for a long time for a good location for a restaurant," said Dugan. "We are very excited about the space. We redecorated the restaurant, but the kitchen did not need many changes. It is exceptionally nice and very clean."
Dugan and his wife will be managing the restaurant together. "We are focusing on sustainable fresh seafood and local vegetables. Our oysters may come from Prince Edward Island or further away, but many of our dishes will be Chesapeake inspired."
Dugan may look familiar to Potomac residents. He started as a busboy in 1980 at O'Donnell's Restaurant in Bethesda to pay his way through the University of Maryland. He remained at O'Donnell's for many years, serving as general manager. Dugan also worked at Clyde's Restaurants and Brio. He is thrilled to be opening his own restaurant: "We have found the community to be very supportive. As we've been getting the restaurant ready to open, people have stopped by to meet us, inquire about the restaurant and wish us good luck. I am looking forward to seeing many of my former restaurant guests at our new venture."
The restaurant will be open for lunch and dinner from 11 a.m. – 10 p.m. Sunday through Thursday. The hours on Friday and Saturday are 11 a.m. to 11 p.m. Even though seafood is a major menu item, the restaurant will offer both meat and vegetarian items. Most dinners are priced from $18 - $22, although the 2 pound lobster and filet mignon will be a bit higher. The menu also includes small plates and dishes for sharing. The 135-seat restaurant will include outdoor dining as well as a full bar with Happy Hour specials and a complete wine list. A private dining room is available for parties of 25.
"We are a family-friendly restaurant," Dugan said. "Our menu features many kid-friendly items, including Mac and cheese and grilled cheese — but we also have crab cakes, salmon and mussels on the kid's menu. I know my 7-year-old and 10-year-old appreciate variety in kid's meals — and that's what we are providing. We also have a wonderful coffee program. We will be featuring Chesapeake Roasting coffee — an excellent coffee product."
Reservations can be made at The Grilled Oyster Company by calling 301-299-9888. The restaurant is located in the Cabin John Shopping Center, corner of Tuckerman Lane and Seven Locks Road, Potomac. Its website is still under construction but will be available soon.