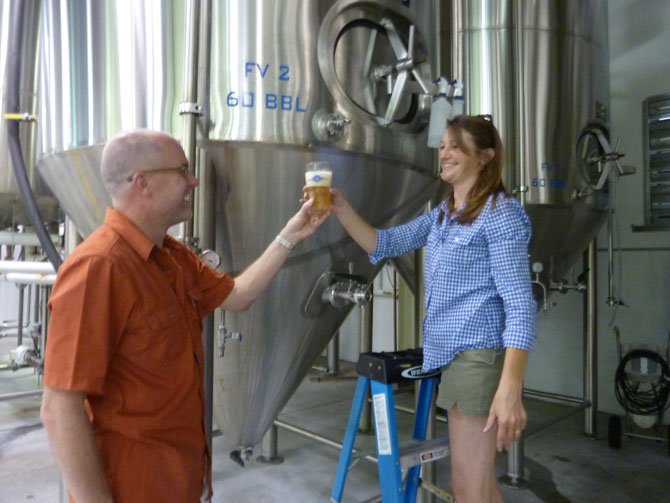 Alexandria — When a derecho swept through the area June 29, downed trees and power lines left more than a million people without power during a record-breaking heat wave. Alexandria residents and businesses alike were left scrambling to salvage what they could of any perishable products. For Port City Brewing, that meant trying to save the beer.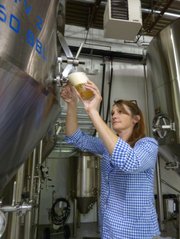 "We lost power for almost a week and nearly lost 13,000 gallons of beer," said Port City's tasting room manager Jennifer Chace. "We were able to get a generator and keep the brewery online but one batch of lager fermented at a higher temperature than intended. We didn't know it at the time but there is actually a style of beer intentionally brewed this way."
Developed in San Francisco, this type of brew is called steam beer, or California Common beer. It is made with lager yeast and fermented at higher temperatures, which is what happened to a 60-barrel tank of Port City's beer.
"What started out as a Bohemian Czech Pilsner is now a California Common," Chace said. "This is called making lemonade out of lemons, or what we have named our Derecho Common. We'll be tapping our limited edition brew Aug. 3 here at the tasting room and select restaurants in the area will carry it as well."
THE DERECHO COMMON is described as "medium amber in color with toasty, caramel malt flavors. It is medium-bodied with an assertive hop profile. It is dry hopped with Amarillo hops, which give it a spicy, citrusy hop kick on the finish," according to information posted in Port City's tasting room.
"This is good," said Alexandria resident John Bordner, who got a sneak preview of the special brew during a July 28 visit to the brewery. "I'm normally a pale ale guy but find this very refreshing and would definitely order it again."
The limited edition brew — equivalent to about 120 kegs — will be available on draft only in the Port City Brewing tasting room and at bars and restaurants in the D.C. Metro area.
"Right now the beer is still in the fermentation tank," Chace said. "But at 3 p.m. Friday, we're going to officially tap our Derecho Common beer. We had a lot of support from the community during the storm and hope folks will come by, grab a growler and celebrate with us."
Port City Brewery is located at 3950 Wheeler Ave. For information on the Derecho Common or other beers call 703-797-2739.