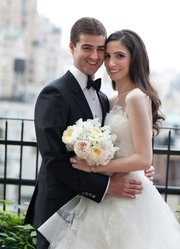 Potomac — Peri Blair Gutstein and Brant Edwin Duber were married on May 27, 2012 by Rabbi Jonathan Stein at the Pierre Hotel in New York.
The bride and groom, both 26, met as freshmen at Cornell University, from which they both graduated from the School of Hotel Administration.
Mrs. Duber works in human resources at Chanel, Inc. focusing on talent acquisition and development. She is the daughter of Ruth L. Gutstein and Dr. Hal S. Gutstein of New York, N.Y. Her father is a clinical assistant professor of neurology at NYU Langone Medical Center and maintains a private practice in New York City.
Mr. Duber is an associate on the Equity Sales desk at Goldman Sachs. He is the son of Nancy E. Duber and Marc N. Duber of Bethesda. His father is the executive vice president and chief operating officer of the Bernstein Companies, a Washington D.C. based real estate development, investment, and management firm.