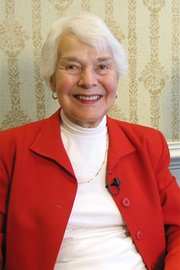 Alexandria — John Porter thinks big. As this year's group of events collectively referred to as Spring for Alexandria draws near, Porter has set some lofty goals for the May 2 kick-off online giving event Spring2Action.
"We are looking to double our numbers from last year," said Porter, the executive director of the community trust ACT for Alexandria. "We want 2,000 citizens to help us raise $200,000 for local charities and will be hosting live 'give-togethers' May 2 to help donors get engaged in the effort."
Event Schedule
MAY 2
Spring2Action
Online giving campaign for Alexandria nonprofits.
MAY 3
ACT for Alexandria Generations of Giving Gala
Patent and Trade Office
MAY 4
The Business Philanthropy Summit
An annual breakfast event hosted by Volunteer Alexandria to promote and showcase philanthropy by local businesses.
7:30-9:30 a.m.
Spring for Alexandria Community Service Day
10 a.m.-2 p.m.
Teams and individual volunteers from businesses, organizations, associations and city departments spend the day providing hands-on service throughout Alexandria.
New in 2012: The Wrap Party
Celebrate after Service Day: a wrap party will take place at Mango Mike's on Duke Street with fun and refreshments for all! www.mangomikes.com
1:30-5:30 p.m.
MAY 5
Alexandria Gives!
Grand Prizes will be awarded May 5 at this new multi-cultural festival organized by the Jaycees. Volunteers from area charities are on-site at the Mount Vernon Recreation Center collecting donations to contribute to neighbors in need.
The ACT events will be held at the Uptowner from 7-9 a.m., Bittersweet Cafe from 11 a.m.-1 p.m. and Pork Barrel BBQ from 6-10 p.m.
"We raised more than $104,000 last year from 1,265 donors but are confident the community will help us reach our goals this year," Porter said. "This is a fun way to encourage local philanthropy."
Spring2ACTion is a 24-hour campaign to raise as much money as possible for more than 70 local nonprofit organizations. Grants and prizes will be awarded to nonprofits and individual donors as part of the online giving event.
Spring2ACTion begins at midnight May 2 and ends at 11:59 p.m. at www.spring2action.org.
The following day, ACT will host the fifth annual Generations of Giving Gala at the Patent and Trade Office. This year's theme is "A Blast From the past: Remembering Alexandria in the 1960s" and the evening will culminate with the presentation of the Legacy of Service Award to Patsy Ticer, honoring her commitment to community service, giving, and investment in Alexandria.
Leslie and Allison Ariail will represent the Ariail family as it is honored with the Legacy of Giving Award in celebration of its many years of community philanthropy and service.
Tickets or more information on the event can be found at www.actforalexandria.org or by contacting Henrietta LaMotte at henrietta.lamotte@actforalexandria.org or 703-739-7778.
The Business Philanthropy Summit kicks off the May 4 Community Service Day and the city-wide initiative wraps up May 5 with Alexandria Gives! at the Mount Vernon Recreation Center.
For more information, visit www.springforalexandria.org.