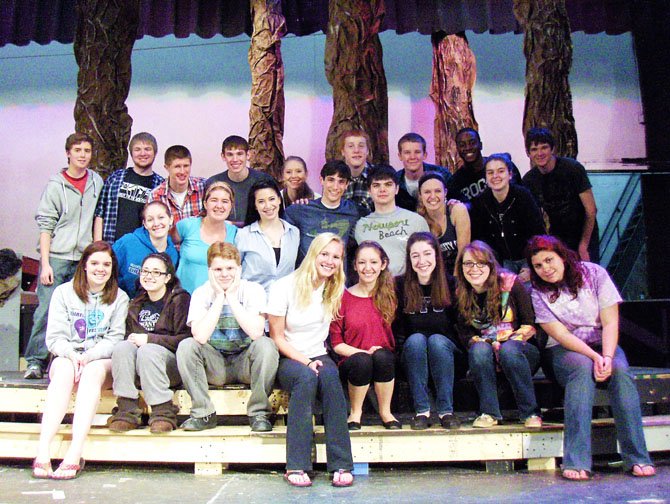 Audiences throughout the country are currently enjoying two TV shows and a movie based on fairytales, so Chantilly High's upcoming play, "Into the Woods," should receive an enthusiastic reception here.
"It's a Stephen Sondheim classic and different from what we normally do at Chantilly," said Director Shannon Khatcheressian. "It's quirky and off-the-wall. But the kids really liked this music when they heard it at a theater workshop, two years ago, so my vocal director and I decided it would be a good fit."
And for this production, it's a family affair, because the vocal director is her sister-in-law, Molly Khatcheressian, who holds that same post at Thomas Jefferson High.
The curtain rises Wednesday-Friday, April 25-27, at 7 p.m. A shortened, tiny-tots version will be presented Saturday, April 28, at 2 p.m. Tickets are $10 for the evening shows and $8 for the matinee, at the door and at www.chantillyhsdrama.com.
This musical is based on the brothers Grimm fairytales. The baker and his wife go through the forest to find items to undo a witch's spell. Along the way, they run into the characters from "Jack and the Beanstalk," "Cinderella" and "Little Red Riding Hood."
However, warned Shannon Khatcheressian, "Because of the darker subject matter in act two, it's not a children's show. That's why the Saturday matinee is for children 6 and younger."
There's a cast and crew of 35, plus a large orchestra that will perform on a raised platform on stage. "Things are coming along really well," said Khatcheressian. "It's a smaller cast, so we're able to give more individualized attention to the actors. And there's no choreography, so we can focus on the music and acting."
The setting is a forest, and the actors will wear the costumes of their fairytale characters. Narrating will be students Chloe Vasquez and John Cuddehe.
"It's always good to revisit a classic, especially one that the entire family can see together because we all know these characters," said Khatcheressian. "There are morals for everybody of every age, and this play asks the question, 'What happens when you get what you always wished for?'"
Junior Devyn Tinker plays one of the main characters, the baker. "He's a little ditzy, doesn't know what to do and constantly needs help," said Tinker. "He feels like his marriage isn't working out because of him and what's happened with his family in the past. But he wants to prove he can do things on his own and be a man when times are rough."
Enjoying his part, Tinker said it's one of the show's more difficult roles. So, he said, "I get to put more emotion into his character and also show his quirky and funny attributes."
His favorite song is one he sings, "No More," because "it's deep and intense and something that catches the other characters off guard, coming from him. And the audience will be able to relate to and feel remorse for him." Tinker said people will like this play because it's fun, energetic and has meaning. "The more I watch it, the more I love it," he said. "The moral is to trust in what you believe is right."
Portraying the baker's wife is sophomore Amanda Mason. "She wears the pants in the relationship," said Mason. "Her husband is the clumsy, affectionate one, and she's the controlling, get-it-done person. In her journey through the show, she always thirsts for the good life and lives vicariously through Cinderella."
Mason said it's wonderful playing this character because she's so complex. "Although controlling, she does love and care about her husband. She learns in the end that getting your wish isn't all it's cracked up to be and that her life wasn't so bad, after all."
Mason especially likes the song, "Agony," sung by Rapunzel's prince and Cinderella's prince, "because it's hilarious and so pompous and cleverly written." And she said the audience will love "the mixture of all the fairytales that come together with wonderful music to make a fantastic story."
Junior Stephanie Feeback plays the witch. "She messes with everyone else's business, is very powerful and takes control of other people's actions," said Feeback. "She doesn't trust anybody; she thinks she knows what's right and that others are harmful to the world. Her daughter is Rapunzel and she's very protective of her."
Feeback is thrilled to have this part. "Ever since I saw the DVD of the original Broadway cast, I wanted to play this role," she said. "The witch is a big, loud character, has great dynamics and is really over-the-top — and I love getting to sing her beautiful music. My favorite number is 'Last Midnight.' It's her last song and she's summarizing everything that's happened and how what seems like a good intention isn't necessarily right."
As for the audience, said Feeback, "They'll like the show because it's a fairytale and the set is really cool. It's creative the way they built the trees and, with the light, they look really eerie."
Portraying Cinderella is junior Natalie Spitzel. She describes her character as vague and someone who "doesn't know what she wants in life. She thinks she wants to be with the prince and a big crowd, but then she thinks it's too much attention. She's lighthearted, caring and hardworking. I love playing her because she talks to birds, and the other characters only see her as a princess and not a human being, at all."
The number Spitzel likes best is "Your Fault." In it, she said, "Everyone's coming together and blaming each other for what the giant has done, and the witch tells them it's all their fault. It's a rap-style song with fun tempos." Spitzel said the audience will love the moral of the story and be able to relate to it. "You have to be careful what you tell your children and what you do," she said. "What you wish for isn't always what you want."