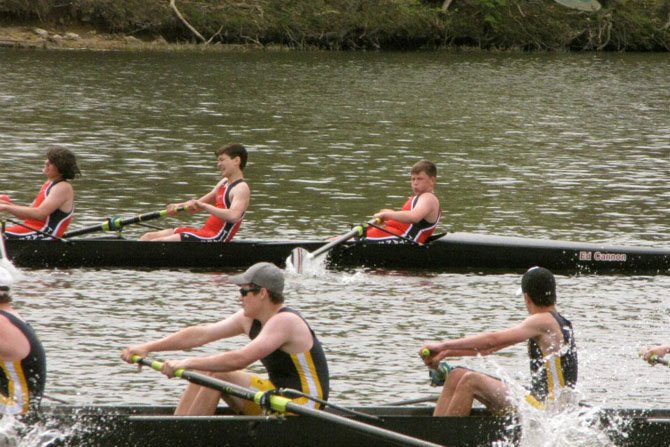 The boys and girls of the T.C. Williams crew team went their separate ways this past weekend, traveling to separate regattas on Saturday that were each marked by sunny skies, stiff competition, and stellar performances by the freshman boats.
The T.C. Williams boys' team stayed in the Commonwealth, traveling south of the Beltway to the Occoquan Reservoir at Sandy Run Regional Park for the Darrell Winslow Regatta, a competition that featured more than 1,500 athletes. Conditions were optimal for racing, with temperatures in the high 70s and a light to moderate headwind.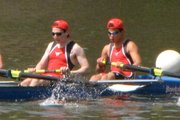 After finishing second to Bethesda-Chevy Chase in their morning heat, the T.C. boys' freshman 8 stormed past B-CC in the afternoon final and never looked back. The young Titan rowers captured first place with a time of 5:13.4, topping not only B-CC, but crews from Lake Braddock, McLean, Madison, and Great Bridge, as well. Members of the victorious T.C. freshman 8 included coxswain Richard Mervis and rowers Rodrigo Robles, Connor Quantannens, Perry Connor, Garrett Youmans, Yahya Yaziji, Angelo Leitner-Wise, Daniel Hinker and Jack Kane.
Other top performances at Occoquan included the T.C. boys' lightweight 8, who took second-place honors with a time of 4:54.4 behind rival W.T. Woodson, and the defending state champion T.C. boys' varsity 4, who also took home second-place honors with a time of 5:25.4 behind Mathews High School. In other races, the T.C. boys' junior 4 finished in third place behind South County and Woodson with a time of 5:24.7, while the T.C. Williams boys' novice 8 also came in third behind Gloucester and Thomas Jefferson with a time of 5:15.3.
While the T.C. boys were competing on the Occoquan Reservoir in Virginia, the T.C. Williams girls were competing on Noxontown Pond at the St. Andrew's School in Middleton, Del. — the site of their last race on March 31, and like two weeks ago, a race that featured some of the most competitive boats in the region. Warm weather with a quartering tailwind throughout the day made for fast conditions and great racing.
In a hard-fought contest that came down to the wire, the T.C. girls' freshman 8 came away with second-place honors in an afternoon race that saw them cross the finish line a mere 1.7 seconds behind Merion Mercy Academy with a time of 5:33.2. In another impressive performance, the girls' third 8 also captured second place with a time of 6:17.8 behind host St. Andrew's School.
The next competition for the T.C. crew team is this Saturday, April 21, when, in a repeat of this past weekend, the boys return to Occoquan for the Smokey Jacobs Regatta and the girls return to Delaware for their third and final race on Noxontown Pond.
The T.C. Williams crew team is guided by boys' head coach Pete Stramese and girls' head coach Mercedes Kiss. For race schedules and more information on the program, visit www.tcwcrew.org.