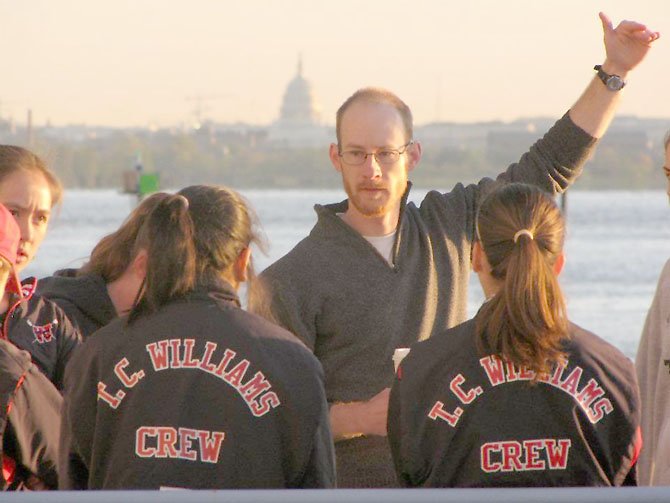 The T.C. Williams crew team wrapped up a week of two-a-day practices over spring break by holding a time trial and an intra-squad scrimmage on April 7 at the Dee Campbell Boathouse in Old Town.
The time trial featured the boys' and girls' varsity, lightweight, freshman and novice boats competing against the clock in a 1500-meter race up the Potomac. Results included: boys' lightweight - 5:07; boys' varsity 4 - 5:33; boys' third 8 - 5:38; boys' freshman 8 - 6:03; boys' novice 8 - 6:51; girls' first 8 - 5:36; girls' second 8 - 6:10; girls' third 8 - 6:44; and girls' freshman 8 - 6:07.
In the intra-squad scrimmage, which was held immediately following the time trial, rowers from the boys' and girls' teams were mixed together in racing shells and then pitted against each other in a head-to-head, single elimination competition. Members of the winning boat included coxswain Brian Comey and rowers Maeve Bradley, Sam Zickar, Gabby Salcedo, Chris Kidd, Perry Connor, Urmana Islam, David Salmons and Lia Niebauer.
The T.C. Williams crew team returns to official competition this coming weekend with a pair of regattas on April 14. The boys' team travels to the Occoquan Reservoir to compete in the Darrell Winslow Regatta, while the girls' team returns to Middletown, Del., to compete in the St. Andrews Regatta on Noxontown Pond.
On Sunday, April 15, the team will hold its annual car wash fundraiser at Minnie Howard. The car wash will take place from 11:30 a.m. to 5 p.m. and be held in the lower parking lot at the school.