Andrew Rodriguez, a 2008 graduate of Bishop Ireton High (Alexandria) and a member of the Army football team, was awarded the 2011 James E. Sullivan Award by the Amateur Athletic Union (AAU) at the New York Athletic Club on March 20. This award honors the nation's outstanding amateur athletes. Presented annually since 1930, the Sullivan award is based on character, leadership and sportsmanship. Notable recipients of the AAU Sullivan Award include: Mark Spitz, Jackie Joyner-Kersee, Florence Joyner, Peyton Manning, Michael Phelps, J.J. Redick, and Tim Tebow.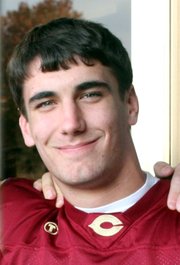 "We congratulate Andrew on this tremendous accomplishment and are all so proud of how well he continues to exemplify what we hope all Bishop Ireton High School graduates will bring to their endeavors," said Bishop Ireton Principal Tim Hamer.
While at Ireton, Rodriguez was captain of the football teams in 2006 and 2007; a three-time first team All Virginia Independent School Linebacker; National Football Foundation Scholar-Athlete; and the Alexandria Sportsman Club football player of the year.
"His coaches, teachers, and teammates can attest to the fact he is an even better teammate and person than an award can capture," said Ireton football coach Tony Verducci.
Rodriguez, a native of Alexandria, is the son of Commanding General of the U.S. Army Forces Command David Rodriguez. His sister, Amy, graduated from West Point in 2006 and recently completed a tour of duty in Iraq.
Upon receiving the AAU award, Rodriguez said, "It is an incredible honor to win this award — and a tribute to everyone I've had with me in my life, from my family to my coaches to my teammates."
He went on to pay tribute to the servicemen and women around the world adding, "They are who we play for and this award goes out to them."
Rodriguez, an Army team captain, was selected for the Sullivan Award as the result of his athleticism and sportsmanship in collegiate football at West Point, as well as for his achievements off the field. As a sophomore in 2009, he was selected as the Army-Navy football game MVP. He missed the entire 2010 season due to two back surgeries. While recovering, he served as the Ireton JV assistant lacrosse coach. He returned to Army as a team captain in 2011 and appeared in all 11 contests.
In addition to athletic achievements, Rodriguez excels in the classroom. Carrying a 4.14 GPA as a mechanical engineering major, Rodriguez ranks third in a class of 1,052 cadets. He is Army's first Campbell Trophy winner and the school's 14th National Football Foundation's National Scholar-Athlete.
Ireton Athletic Director Bill Simmons said, "Andrew Rodriguez is just a very special young man. At Bishop Ireton he was an exceptional student and football player, but more than that, he is just a wonderful person. He is the type of young man every parent hopes their son will grow up to be."
Following graduation from West Point this spring, Rodriguez will begin infantry training in Georgia before reporting to his first duty station in Vicenza, Italy.