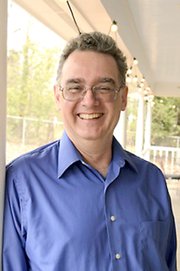 Herndon — Eric Boll may be knocking on your door one day soon. Boll is one of the nine candidates in the running for the six seats on the Herndon Town Council.
"I do a lot of door knocking," said Boll. "I enjoy it. I've met a lot of nice people who have offered some very favorable responses and some pretty thoughtful comments."
One of the key issues that Boll is interested is downtown revitalization. With Metro extending through Herndon to Dulles Airport, Herndon is perfectly situated for redevelopment, said Boll. Until now, however, there has not been sufficient redevelopment.
"There has not been a lot of activity in revitalization in the center of town. I have lived all over the world," said Boll. "A vibrant downtown is good for community life and good for business. A town like Herndon is either standing still or going backward."
Boll said he wants to make sure Herndon continues to move forward and continues to thrive.
Boll grew up in Montreal, Canada. Faint traces of his father's British accent can still be heard in speech. Upon graduating from McGill University, Boll began his 30-plus year career as an electronics engineer. While working for Motorola, Boll and his family lived in Toulouse, France and Austin, Texas. They moved to Northern Virginia in 2002 and have lived in Herndon for the past four years.
For the past several years, Boll has been attending town council meetings and discussing town issues with several of Herndon's current council members. He feels the members of the town council say they are in favor of redevelopment, but have not initiated or acted upon projects that would result in actual redevelopment.
In talking with members of the public, Boll says he has gotten the sense that the citizens of Herndon are asking: "Why is nothing happening?" Boll said, speaking of redevelopment.
Boll said that he believes that his campaign's focus on redevelopment "has really tapped into something. I knew downtown revitalization would be a key issue. A lot of people in town are watching this. A revitalized downtown will help quite a few people. It won't cure every problem, but it will help quite a lot," said Boll.
Elections for Town Council and mayor will be held May 1. In addition to Boll, candidates for the six Town Council seats for the 2012-2014 term are Jeffrey L. Davidson, Connie Haines Hutchinson, C. Melissa Jonas, David A. Kirby, Sheila A. Olem, Charlie D. Waddell, David N. Webster II and Grace Han Wolf. Hutchinson, Olem and Wolf serve on the current Town Council. Candidates for mayor are Lisa C. Merkel, Jasbinder Singh and William B. "Bill" Tirrell, Sr. All serve on the current Town Council.