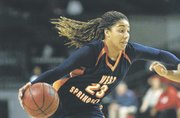 For much of the West Springfield girls' basketball season, the Spartans defense had been a catalyst for the team's offense.
Their aggressive style of play helped the team earn a trip to the Virginia AAA state semifinals on March 10 at the Stuart C. Siegel Center in Richmond. In the semi-final match against Eastern Region foe Lake Taylor, the offense couldn't keep pace, resulting in a 56-44 loss.
"We weren't shooting well at all," head coach Bill Gibson said. "You have to shoot at least average, but we weren't doing that."
Jordan Miller led the team in scoring with 12 points. Logan Battle and April Robinson both tallied 10 points. Melanie Todd rounded out the top West Springfield scorers with seven points.
West Springfield's accomplishment of playing in the final four of the state tournament was not lost on Gibson.
"There's 137 AAA teams in the state and to get to the final four is quite an honor," Gibson said. "The kids played real hard and [the loss] is nothing to be ashamed about."
Despite the disappointing outcome, Gibson viewed the loss as another learning experience for his young team.
The team's core of Robinson, Battle and Miller will be juniors next season. The Spartans will graduate only five senior players at the end of the year.
Gibson noted that the state semifinals experience will help the young team in future big game situations.
"The pressure of being in a big game is something you can't simulate," he said.
The loss ends a top-notch year for the West Springfield girls' basketball team. The Spartans finished the season with a 25-3 record and won the Patriot District championship, but lost to Oakton in the Northern Region finals.
Gibson hopes the young core of players can carry the team back to the state playoffs, but he said replacing Naomi Ngalle, Julia Stejskal, Jaz Gaston and Memi Turay will be tough. Even tougher, though, is finding someone to fill Todd's role.
"When you have a team like this, you look at what you've lost," he said. "We're losing Melanie Todd, one of the best athletes I ever had. We're going to lose her athleticism and the things she did to change the momentum of the game."