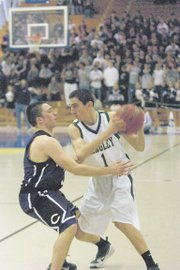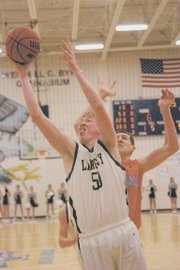 Two losses to close the season will do little to dampen what has been a remarkable winter campaign for the Langley High boys' basketball team. The Saxons saw their season officially draw to a close Saturday afternoon, May 6, when they fell to Roanoke's Patrick Henry, 58-36, in a Virginia State AAA quarterfinals round playoff contest played at the Salem Civic Center.
Langley, which went 22-5 this season, had a remarkable postseason in which it captured its third straight Liberty District tournament title before winning three games in a row at the Northern Region playoffs to reach the finals. There, in a game played on March 1 at Robinson Secondary School, the Saxons lost to Chantilly, 50-43, in the championship game.
Both Langley and Chantilly advanced to states. The Chargers won their state quarterfinals game against Gar-Field last Saturday night at Robinson to advance to Wednesday's state semifinals in Richmond. Meanwhile, the Saxons, in their quarterfinals affair, could not slow down a Patrick Henry team that had captured the Northwest Region title. Making its second state playoff appearance in three years, Langley was held scoreless in the first quarter and trailed 14-0 going into the second quarter. The Saxons played better the rest of the way but could never make it close. They trailed 26-13 at halftime and 34-21 after three quarters before the Patriots outscored them by nine points in the final quarter.
"They're very good and very athletic," said Langley coach Travis Hess, of Patrick Henry. "They shoot the ball tremendously well from the perimeter and are great in transition."
Hess said his team did a good job defensively in containing the Patriots' outside shooting. For the game, the Patriots converted just a pair of long range three-pointers. But the Saxons had no answer in stopping Patrick Henry's ability to run the floor.
"Their transition game was very good and they were very good defensively," said Hess.
Falling into a 14-0 first quarter hole made the entire game an uphill climb for Langley.
"I think our kids came out a little tense and apprehensive," said Hess. "[Patrick Henry] had all the confidence in the world."
Langley played a zone defense most of the night. But when the Saxons needed a big comeback in the final quarter to keep alive any hopes of winning, they switched to a man defense.
"We needed to speed [the tempo] up to get turnovers and possessions," said Hess.
But Patrick Henry excels in that style of play and went on to the win.
Langley received a strong game from senior forward Joey Kiffe, a team tri-captain who finished with team-high 10 points.
"He played physical and rebounded for us and got some points inside," said Hess, of the 6-foot-4 inch Kiffe.
Langley's other top scorers against Patrick Henry were senior point guard Colin Jones (nine points) and junior guard David Adams (eight).
Langley sophomore point guard Austin Vasiliadis (five points) played a good floor game and did a good job handling Patrick Henry's intense defensive pressure.
The Patriots did a good job slowing down Langley senior center Austin Kriz (two points), the Saxons' top scorer on the season who had played outstanding throughout the postseason.
"They double teamed him and were so quick," said Hess, of what Kriz faced throughout the game.
<b>THE SEASON</b> will go down as one of the best in Langley boys' basketball history. It marked the second time in the program's history in which the Saxons qualified for the state tournament. No other team in the history of the Liberty District has ever won three district tournament championships in a row.
"Making the state playoffs is a great accomplishment," said Hess. "We're proud of everything we've accomplished. We lost to a great [Chantilly] team in the region championship. 22-5 is a great season and nothing to be ashamed about.
"Our team played all year unselfishly," said the coach. "Everyone accepted their roles so well in games and in practices."
A guard-oriented team in recent seasons, the Saxons changed their style this season and had the mindset of working the ball inside to star center Kriz, who earned First Team All-District honors along with teammate Jones. Kiffe earned Second Team honors and Vasiliadis made Honorable Mention.
"We worked to really pound the ball inside and our players really embraced that philosophy," said Hess.