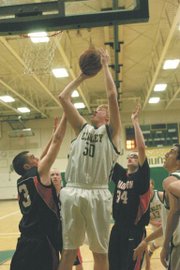 Langley High boys' basketball center Austin Kriz is helping give the Saxons a new look this season.
Over the past two years, Langley has captured consecutive Liberty District titles behind its outstanding play in the backcourt. Last year, Saxon perimeter players such as Derek Baker, Thomas Kody and Barrett Hunter were instrumental in leading Langley to the district crown. Baker, in fact, was district tourney MVP.
All three graduated last spring and this year's edition of Langley basketball has taken a different offensive approach. The Saxons (11-2 overall) are utilizing there inside game more and, in their two post offensive scheme, are receiving good production from frontcourt players Kriz and Joey Kiffe. Kriz, a 6-foot-6 inch senior, is averaging 15 points per game, while fellow 12th grader Kiffe, who is 6-3, is tallying close to 10 points a game.
"[The new offense has] worked and our kids have embraced it," said Langley coach Travis Hess, whose team defeated Madison, 57-33, in a district home game last Friday night, Jan. 15. "I think they believe they can be successful with it."
Kriz scored a game-high 23 points – 12 of those coming in the first quarter when Langley jumped out to a 23-5 lead - in the win over the Warhawks. Last year, the center saw limited playing time. But this season he is perhaps the team's go-to player.
"He's playing very well," said Hess, of his big man. "We're feeding him the ball and he's continuing to make plays. He's got good post moves and good hands. He's rebounding very well. Last year he did not play much. He kind of paid his dues. He's a great kid."
Hess said the reserved Kriz, who scored a season high 26 points in Langley's 69-48 district home win over McLean on Dec. 18, has a keen awareness of how the game is played.
"He really does have an understanding of the game and knows what's going on," said the coach. "He knows he has to score for us to be successful."
Kriz credits his teammates with getting him the ball and setting screens for him, according to Hess. The pivot player, along with scoring and rebounding well, is also a good passer.
<b>IN THE LANGLEY BACKCOURT</b>, meanwhile, the Saxons have received an exceptional season from sophomore point guard Austin Vasiliadis, who is averaging 7.5 points per game and doing a good job of setting up teammates with his good passing.
"He has run our offense and handles defensive pressure well," said Hess. "He's a very nice player and very smart. He's a true point guard in the sense he loves to pass. He'll drive in the lane and gets us in our sets. His pull-up jumper is pretty good and he has a good three [point shot]."
A big season for the Saxons is also coming from shooting guard Colin Jones, who has drained 24 long distance treys on the season and is averaging 13.5 points per game.
Hess and his players realize there is still lots of season remaining. The team's only losses have come at Edison, 68-67, on Dec. 11, and to Centreville, 66-44, in the finals of the Westfield Bulldog Bash tournament over the holidays.
"We're playing well and we're unbeaten in [district] play," said Hess. "There have been games where we didn't look great but we were still able to win. I'm real pleased. I didn't think we'd be [11-2]."
Langley, which a couple times this season has broken up the day-to-day practice routine with a good old fashioned game of `horse,' is hardly caught up in its impressive win-loss record.
"Our kids come into games with expectations to win," said Hess. "They believe in themselves and what they're doing. They've handled [success] very well.
"The guys get along with each other and are great kids," he said. "We're just trying to get better and put ourselves in position to win another district championship. We want to go out and get better and win ball games."
This week, the Saxons play district road games at South Lakes on Tuesday, Jan. 19 and at McLean on Friday, Jan. 22.