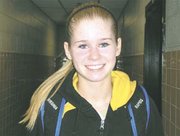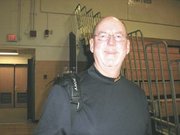 In a game that featured numerous standout players last Friday night, Westfield High junior guard Yawrely Ramirez might have tended to get lost in the action. But, at game's end, it was the junior guard's clutch, timely three-point basket that proved to be the difference in the Bulldogs' 57-54 win over Herndon. The Concorde District contest between the two elite teams took place at Herndon.
While the game's standout players such as Herndon's Phyllis Martin (game-high 22 points) and Alexis Lewis (18 points, 10 rebounds), along with Westfield's Shelby Romine (14 points), Jessica McNamara (13) and Siobhan Beslow (10) contributed many of the night's top highlights, it was Ramirez, a steady Bulldog starter who is averaging seven points per game, who made the game's most memorable basket.
Following a pair of free throws by Martin, Herndon's talented senior backcourt player, the Hornets held a 54-52 lead with 25 seconds remaining in the fourth quarter. After a timeout, Westfield worked the ball around looking for a game-tying or go-ahead basket. But Herndon's aggressive defense forced a loose ball around the area around the top of the key. In the scramble for the ball, Westfield gained possession. The ball then was passed left to Ramirez on the perimeter. The 5-foot-7 inch guard dribbled left, spotted up behind the three-point line and converted from long range. Just like that, Westfield was on top, 55-54, with eight seconds showing.
Moments later, Westfield's Beslow, a junior forward, came up with a steal as Herndon was trying to get off a game-tying or game-winning shot. She then converted both free throws to make the score 57-54 with two seconds left. The Hornets could not get off a shot after that and the visiting Bulldogs had come out with the hard fought triumph.
"We wanted to get a big [defensive] stop," said Herndon coach Reggie Barnes, of the Westfield possession that resulted in the big three-point basket by Ramirez. "We wanted to know where Shelby Romine was and stay with her. The play seemed to break down but Ramirez stepped up and made the shot."
Pat Deegan, Westfield's coach, said Ramirez got a good look at the basket and made a textbook shot, displaying good shooting form and not rushing.
"She got a good look, she wasn't rushed and she just stepped up like in practice every day," said Deegan. "I wasn't surprised it went in."
With the win, Westfield improved to 12-2 overall and remained perfect in district play at 4-0. Herndon slipped to 8-5 and 1-2 in the district.
<b>HERNDON</b>, behind five first half three-pointers, carried a 31-28 lead into halftime. But Westfield opened up the second half with 13 straight points, capped by a backdoor layup basket by junior forward Dani Knox (4 points) to make the score 41-31 Westfield, with about three minutes left in the third quarter.
Westfield outscored the Hornets 18-8 in that third quarter and carried a 46-38 lead into the final quarter. Herndon came right back, getting within 46-44 on a three-point shot off the right wing by Martin early in the final stanza and eventually re-gaining the lead, 48-47, on two foul shots by Lewis, a senior wing, with 5:48 remaining.
The Herndon lead had extended to 51-47 a few minutes later on a baseline layup basket off the left side by Martin with 2:35 left. But several possessions later, Westfield's McNamara, a junior shooting guard, drained a three-pointer from the left side of the top of the key area to deadlock the game at 52 with 50 seconds remaining. Herndon would retake the lead on Martin's two free throws with 25 seconds left, setting up the game's final dramatic seconds and the game-winner by Ramirez.
"We finished it off at the end, that's what matters," said Westfield's Romine, who a year ago was the District Player of the Year and is averaging 16 points per game this season. "We struggled a little bit in the [fourth quarter] with our shooting and rebounding. Herndon is a very tough and physical team. I've been playing against them a long time."
Both teams, throughout the game, took advantage of the three-point line, with Herndon converting seven treys and Westfield five. Martin nailed four of the long range shots, while teammates Jasmine Johnson (6 points) drained two and Jenna Aschenbach one. For the Bulldogs, McNamara and Romine both made two three-pointers and Ramirez had one. Ten of McNamara's 13 points came in the third quarter.
Herndon did a nice job holding down Romine in the second half after she had scored 12 of her 14 points in the first half. Overall, the 5-8 senior played an excellent all-around game, passing the ball and defending well, rebounding the ball (6 boards) and getting it down the court.
"She's sort of like the engine that drives everything," said Deegan, of his talented backcourt player. "She gets up on the boards and rebounds and plays great defense. She can score and run the break well."
Deegan said Herndon did a good job defending Romine.
"Herndon played real well and had an idea what we wanted to do," he said. "They wanted to take things away from Romine.
Barnes, the Herndon coach, was proud of his team's play but disappointed the Hornets could not finish the game off and get the win. He credited Westfield with playing well.
Herndon, this week, was scheduled to host Robinson on Tuesday, Jan. 19 before playing at Chantilly on Friday, Jan. 22. Westfield, meanwhile, was set to play home games against Chantilly and Oakton on Tuesday and Friday, respectively.