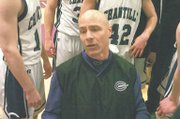 Even exceptional teams have to re-focus at times. That might have been the case for Jim Smith's Chantilly High boys' basketball team last Friday night following the Chargers' 66-62 Concorde District home loss to talented area rival Centreville.
The district setback was the first for Chantilly in two seasons. A year ago, the Chargers went unbeaten in district play during both the regular season schedule as well as in the postseason tournament on way to capturing the district crown. And this winter, Chantilly (9-5 overall) won its first two district games – victories over Robinson and Oakton – before finally stumbling in district play against the Wildcats.
Following Friday's game, Smith talked to his team about re-gaining the winning mentality that helped the Chargers fare so well a year ago in the district. Smith, despite having most of last year's players back on the team this season, indicated his squad has not been as sharp or hungry of late.
"Some good things came out of the [postgame] meeting," said Smith, earlier this week. "We haven't been working as hard in practice. Maybe we've gotten a little bit spoiled and overconfident. We've had two real good days of practice [this week]. I'm hoping we'll come out with a real sense of urgency."
The Chargers were scheduled to play district games this week versus visiting Westfield on Tuesday and at Herndon this Friday night.
Smith emphasized that the loss to Centreville was the result of the Wildcats (11-2) playing superb basketball.
"I give Centreville a lot of credit," said Smith, whose team defeated the Wildcats in all three meetings last year. "They have a group of seniors with Warren Denny, Bobby Warhurst [and others] and they play extremely well. They came into our gym and played with a lot of energy and poise. They hit their shots."
Chantilly led 15-11 after one quarter before Centreville outscored the home team 20-12 in the second quarter to take a 31-27 halftime lead. The Chargers were within one after three quarters but Centreville played a good fourth quarter to earn the win.
For Centreville, Denny, a forward and one of the better players in the Northern Region, scored a game-high 29 points, including four three-point shots. Warhurst, also a forward, tallied 12 points for the Wildcats and junior forward Cameron Owens scored 11.
For Chantilly, four players finished in double figures scoring. Guard Kethan Savage led the way with 14 points, while teammates John Manning, Matt Howerton and Jamie Danehower each had 10 points. Devin Ballam, a junior guard, and Adam Fridy, a senior forward, each contributed eight points.
<b>SAVAGE</b>, averaging 14 points per game, has been a solid backcourt presence throughout the season. He is one of the area's better defensive players. In Chantilly's 74-60 win at Oakton early last week, Savage, who is 6-foot-2, scored 15 points. Incredibly, he also had 10 steals – more takeaways than coach Smith can recall one of his players having in a single game.
"He's been pretty close to All-Region status for us," said Smith, of the junior backcourt player. "He's outstanding on defense. He's very long and quick and has very good instincts."
Chantilly's go-to player is Manning, a seven-foot junior pivot player who is being heavily recruited by top college programs. Manning, a third year varsity starter, earned Second Team All-District honors two years ago as a freshmen and was a First Team All-Region selection last year as a sophomore. He is having another good season and is the team's force both offensively and defensively.
"John is obviously the key to everything we do on both ends of the floor," said Smith. "Defensively, he's a game-changer and the best shot blocker in the region and maybe the state. Offensively, our first option is always to get the ball inside."
Manning is averaging 10 points, nine rebounds and five blocked shots per game. Smith said his center's scoring numbers are not higher due in part to playing fewer minutes in lopsided games.
Smith said Manning has taken his share of physical poundings inside the paint this season. On one occasion, he needed 16 stitches for his tongue. Another time, he required several stitches above an eye.
Against Centreville last week, the Wildcats, at times, had as many as four players sagging in defensively around Manning in order to keep him in check.
Smith said his standout frontcourt player sometimes gets frustrated when referees don't blow the whistle more often.
"He doesn't get a lot of calls for whatever reason," said Smith, who remarked that Manning's game is getting better and better as the season moves on.
Things might even be tougher physically for Manning in the paint if he didn't have 6-3 senior forward/center Matt Howerton around him. Howerton's presence around the basket takes some of the pressure off of Manning.
"Matt's one of those great high school players," said Smith. "He's a captain and leader. He does much of the dirty work for us. He takes charges. He's one of those team players and compliments John real well."