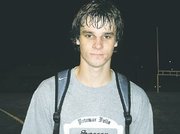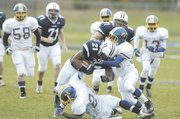 The 2009 high school sports year was one in which numerous teams from the surrounding Ashburn and Cascades areas stepped up and put together breakthrough seasons. There were championships, dramatic turnaround campaigns and the magic that takes place when members of a roster come together as one to form a tightly knit unit. The following are a few of those teams that made memories which will last a lifetime.
<b>SOCCER</b>
The Broad Run girls' soccer team made Virginia high school history by becoming the first team to win consecutive state AA titles. The Spartans capped the spring season with a resounding 3-0 state championship game win over Hidden Valley of Roanoke at Radford University. Broad Run goals in the victory came from sophomore midfielder Whitney Church, freshman Erin Brady and senior forward Valerie Powell.
A day earlier in a semifinals game, Broad Run (23-1-1 for the season) had beaten Courtland High of Spotsylvania, 2-0, behind two scores from Church. The year before, the Spartans had bested that same Cougars' team in the state title game.
"All of the pressure was on us but my girls thrive on pressure," said Broad Run coach Claire Collins, of her team's bid to win a second consecutive state crown. "That's when they perform their best."
Earlier in the postseason, the Spartans won both the Dulles District and Region II tournaments, beating Heritage of Leesburg in both championship games.
<b>THE POTOMAC FALLS BOYS'</b> soccer team came about as close to claiming a state AA title as a team can come last spring, but fell barely short when the Panthers lost to Blacksburg High, 3-2, in the finals at Radford. It was the first postseason loss for coach Dave Gryder's team, which had captured both the Dulles District and Region II tournaments prior to states. Overall, the Panthers, following the state title game loss, went 8-1 in playoff games.
Potomac Falls led Blacksburg, 2-1, following a goal by senior Asa Fox, off an assist from Conor Shanosky, with less than two minutes remaining in regulation. But Blacksburg tied the game with three seconds left in regulation before winning in overtime.
"[The loss] was a hard thing to take," said Gryder, whose squad had won state playoff games over Grafton High (Yorktown) and local rival Broad Run to reach the championship game. "But you have to look at the positive season we've had."
One of the postseason's best matches was the Panthers' 2-1 overtime win over Broad Run at the Region II finals game played at Park View High. It was the 10th straight win for the Panthers, who had begun their winning streak during the latter stretches of the regular season. Fox and Shanosky, both midfielders, scored goals in the victory.
"There is a reason they've won 10 games in a row," said Broad Run coach Jonathan Hicks, who's Spartans were the 2009 regular season Dulles champions. "Their two players who scored on us – Conor and Asa – are two of the best around."
<b>BASKETBALL</b>
It was a season of "firsts" for the Dominion High boys' basketball team last winter. Those "firsts" for the Titans, a program in just its sixth year of existence, included capturing the Dulles District regular season title, reaching the district tournament finals, qualifying for both the Region II and state AA tournament and winning 20 games.
"It's been an opportunity for us to get a feeling of what winning is all about," said Dominion coach Steve Douglas. "It's like getting a new car."
Dominion qualified for states by reaching the Div. 4 region finals, where the Titans (21-8) lost to Handley High of Winchester in a game played at Orange County High. Dominion, even with the loss, advanced to states where its season ended with a loss to Brunswick High (Lawrenceville) in Richmond.
But what a season it had been for the Titans, who were led by First Team All-Region guard Deandre Albritton. The senior scored 22 points in the region finals loss to Handley. At the region semifinals, a 40-38 Dominion win over William Monroe (Standardsville), Albritton and fellow senior teammate Travis Blackburn both converted crucial foul shots in the closing seconds to secure that victory.
Dominion, earlier in the postseason, had reached the district tourney finals where the Titans met Broad Run in the title game played at Freedom High. In front of a huge, frenzied crowd, the No. 2-seed Spartans upset No. 1 Dominion, 74-67. Broad Run, under first year coach John Costello, trailed by seven points in the first quarter, but rallied to tie the contest after three quarters. In the fourth, the Spartans ran the court to perfection and scored on numerous fast break points to earn the win. Broad Run big men Kevin McGaughey (20 points) and Will Field (12), along with guard Breon Earl (11), led Broad Run in the title game win.
Broad Run advanced to regionals where, in a home semifinals game, it lost a nail-biter to Orange County, 60-59. The loss ended the Spartans' season at 20-6 and left them one win short of qualifying for states for the first time in school history. Broad Run, against Orange, had rallied from an 11-point halftime deficit to take the lead in the second half before the guests pulled away in the fourth quarter.
<b>BASEBALL</b>
Joe Terango's Potomac Falls' baseball club enjoyed a marvelous '09 spring season which saw the Panthers win both the Dulles District and Region II titles and advance to the state playoffs for the first time since 2003.
Potomac Falls' season ultimately ended with a 3-0 state semifinals loss to Puquoson (Bay Rivers District) at Radford University.
The Panthers had reached the state semis with a 3-2 quarterfinals win in extra innings over Grafton, a game in which Panther star pitcher Jake Kline, the District and Region Player of the Year, was outstanding on the mound.
Earlier in the postseason, Potomac Falls won the Region II title when it defeated host Orange County High, 5-1, behind brilliant relief pitching from senior southpaw Eric Dimsey, who worked 3-1/3 innings of one-run ball to earn the win. The game was tied at 1-1 before the Panthers broke it open with four runs in the top of the seventh inning, the big RBI base hits coming from senior catcher Mike Spring and third baseman Matt Rubino.
Ultimately, the Panthers' quest of making it to the state finals for the first time in school history fell short. Nevertheless, Potomac Falls had perhaps its greatest season in the program's history in going 22-4.
<b>FOOTBALL</b>
Ashburn's two football powers – Broad Run and Stone Bridge – put together spectacular fall seasons in 2009. The Spartans of Broad Run went unbeaten for the second straight season and successfully defended its state AA title by defeating Amherst County, 21-16, in Blacksburg. The win capped a perfect 14-0 season for coach Mike Burnett's team.
Broad Run lost star running back T.J. Peeler during the first half of the state finals game to a knee injury. But Peeler's teammates, led by sophomore QB Connor Jessop (3 TD passes), picked him up.
A few weeks earlier, Broad Run, in its final home game of the season, dominated Sherando High, 36-13, to win the Region II crown. "We definitely came up huge tonight and we're going to states," said an exuberant Jessop following the win over Sherando. "We're happy to win the region but we still have to [play well] at states."
And the Spartans did just that.
<b>STONE BRIDGE</b>, meanwhile, put together a fabulous fall season within the Northern Region, going 9-1 over the regular season and eventually capturing its third straight region crown by defeating visiting Lee, 21-10. The Bulldogs then advanced to states and defeated Massaponax of Fredericksburg in a semifinals game, earning them the right to meet Phoebus of Hampton for the state championship.
There, Stone Bridge, despite a huge game from star running back Marcus Harris (191 yards), lost to the Phantoms, 15-10, in the title game played in Charlottesville.
"I thought we played lights-out defense all day," said Stone Bridge coach Mickey Thompson. "But we couldn't put enough points on the board."
It marked the second time over the past three years that Stone Bridge had reached the state finals. The Bulldogs had captured the state championship in 2007.
In what was supposed to be a season of lesser expectations for a relatively young Stone Bridge team, the '09 Bulldogs put together another typically great autumn campaign.
<b>THE PARK VIEW</b> High football team was determined to turn things around in 2009 following a disappointing 3-7 record in 2008. And the Patriots came up big, going 7-3 in the tough Dulles District and qualifying for the Region II, Div. 4 playoffs where they defeated Western Albemarle, 35-0, in a semifinals game played at Park View.
The Patriots' turnaround season ended the following week with a 33-7 loss at Handley High (Winchester) in the region championship game. Park View's lone touchdown of the day came on a scoring run by quarterback Brandon Lee. The loss stung, but hardly erased what was a terrific season for the red, white and blue of Park View.
"It was an incredible job by everyone," said coach Andy Hill, of his team's 8-4 season. "All these kids played [in 2008] and really put in their minds that we weren't going to be that team this year. 8-4 is a real step up."
<b>SOFTBALL</b>
It hardly seemed probable that the Broad Run girls' softball team could win a third consecutive state AA title last spring. The Spartans had been a recognizable state force in both the 2007 and '08 spring seasons behind dominating pitcher Caitlyn Delahaba, but the fireball throwing right hander had graduated after the '08 season.
That meant Judy Betz, the '08 pitching backup, would be on the mound for the 2009 Spartans. While not as dominant as Delahaba, Betz had all the grit, composure and competitiveness that coach Ed Steele could ever want.
"I think she was downright magnificent," said Steele, of the season the Spartans received from Betz. "That is not too strong a word. She got healthy [following early season injury struggles] and more confident."
Betz epitomized the hard-working bunch from Broad Run which, once again, found a way to garner another state title. The Spartans, in 11 innings, defeated Tunstall High, 2-1, in the finals game at Radford. Broad Run scored the game-winning run in the bottom of the 11th inning on an RBI double by Jenn Soroka that scored Maggie Betz from first base and set off a spontaneous, on-field celebration.
"They were pretty excited," said Steele, of the game-winning hit. "We had a lot of young kids on our team. Probably half our team had never been to the state finals before."
Broad Run (22-3), along with the stellar pitching of Betz, had an outstanding defense and an offense that knew how to come up with the big hits and runs.
<b>OTHER GREAT TEAMS OF 2009</b>
How about the Potomac Falls' cross country program, which saw both its boys' and girls' teams win Dulles District titles. The Panther boys went on to garner the Region II crown before finishing a strong third place at states. Meanwhile, the Potomac Falls' girls earned third and fourth place finishes at regionals and states, respectively. It was another great fall season for coach Dolph Null's teams. …The Dulles District was well represented at the Region II wrestling championships last winter. Potomac Falls and Briar Woods finished fifth and sixth, respectively, in the team standings. Potomac Falls was led by region champion Ryan Hagen (152 weight class), while four Briar Woods' wrestlers – Ethan Ochs (heavyweight), Nike Girolami (215), Mike Flemming (160) and TJ Julia (112) - earned third place medals. Park View's Stephen Penna captured the championship at 112, and Broad Run's Denis Murray (103) was a second place finisher. …The Stone Bridge High girls' softball team, under coach Rich Sullivan, captured the Liberty District tournament crown last spring. The Bulldogs, in the finals, bested Marshall, 3-1, in the game played at Madison High. Senior pitcher Cassie Phillips had an outstanding season for a Bulldog squad that was 11-3 in district play.