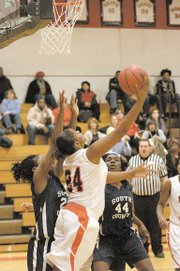 The Herndon High girls' basketball team got a taste of Terrapins' fever Saturday morning, Jan. 9.
The Hornets, members of the Northern Region's Concorde District, were invited to watch the University of Maryland women's basketball team practice at Comcast Center in College Park. Coach Reggie Barnes' team was thrilled with the opportunity to watch the Terrapins up close. So the Herndon team, after hopping on the beltway early Saturday morning, arrived on campus and took in the nationally renowned Maryland team's 10 a.m. practice session.
"I wanted them to see how a major Division 1 school goes about practice," said Barnes, who brought both his varsity and JV squads.
Maryland assistant coach Dave Atkins, an acquaintance of Barnes', was the Terrapin contact that set up the visit.
Barnes wanted players within his program to watch firsthand how hard players at the collegiate level work out and the intensity level that goes into college practice sessions.
"The intensity and energy level at that level is different than in high school," said Barnes.
Brenda Frese, the Terrapins' eighth year head coach, spent a few minutes addressing the Herndon program.
"She told us that every day in practice you need to improve [a part of your game] and come with the mindset of getting better," said Barnes, recalling Frese's words to the Hornets. "She asked them how they were doing in the classroom, and if they were working hard [on the court] and were they coachable. It was not what was being said [as much as] who was saying it. She's a major college coach who won a national championship [with Maryland in 2006]."
Barnes said his team members watched the Maryland team conduct two-on-two drills in which fundamentals such as setting screens, feeding the ball inside and communication between teammates were stressed. He said the Maryland players worked hard, accepted instruction from the Terrapin coaches and encouraged one another even when mistakes were made.
Some of the Maryland players mingled with the Herndon team members following practice.
One of the morning highlights for the Herndon program was receiving an informal tour of the Comcast Center and checking out the showcase area in which the university's athletic past is celebrated with pictures, trophy's and Terrapin keepsakes. The Herndon players even saw a picture of Christy Winters-Scott, a former Maryland women's basketball standout and the current coach of Herndon rival South Lakes.
<b>ON THE FLOOR</b>, it has been a successful season thus far for Barnes' team, which was 7-4 going into this week. The Hornets came up short last Friday night at powerful Oakton, 74-47. The unbeaten Cougars are the defending Northern Region champions and the state AAA runner-up.
"With the experience Oakton has, you can fall behind fast," said Barnes, whose team trailed 31-9 at halftime. "They get good production off the bench."
Herndon had two players — senior guard/forward Alexis Lewis (13 points) and senior guard Phyllis Martin (11) — finish the game in double figures scoring. Other good games for the Hornets came from junior guards Rachel Liebenstein (6 points) and Shequilla Fergeuson (solid defense), as well as sophomore guard Deborah Headen (6 points) and senior guard Jasmine Johnson (5).
For Oakton, point guard Caroline Coyer and shooting guard Zora Stephenson, both returning starters from last year's state runner-ups, finished with 19 points each.
The 5-foot-9 inch Lewis, Herndon's leading scorer this season, is a fourth-year varsity starter for the Hornets.
"She's a very smart player and is a difficult matchup for guards she faces," said Barnes. "She can post up smaller players and drive around bigger guards."
Lewis missed five weeks of last year's season because of a knee injury. But she has come back strong this winter. She scored 24 points in Herndon's 72-67 home loss to cross-town rival South Lakes on Dec. 18.
Martin, Herndon's point guard, is another formidable backcourt player. The Hornet playmaker is averaging nine points per game and getting her teammates involved in the offense with good passing.
"She's a leader and a coach on the floor," said Barnes, of Martin. "She's been in the battles in the Concorde District [over the years] and she's continued to improve her game."
Herndon's top frontcourt player is 6-1 senior Carlon Chambers, who recently signed a collegiate letter of intent to play basketball at Norfolk State. Chambers is averaging close to 10 points per game.
"She's athletic, strong and able to get up and down the court well for a girl her size," said Barnes.
Herndon was scheduled to play district games this week at Centreville on Tuesday, Jan. 12 and at home against Westfield this Friday night, Jan. 15.