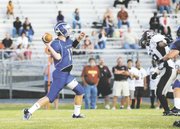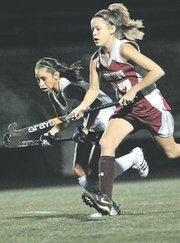 Oct. 24 was a cold, wet, miserable day during the latter parts of a disappointing season for the West Potomac football team. Facing a T.C. Williams team with a revamped offense and a stingy defense, the 2-5 Wolverines had plenty of excuses available in case of an uninspired effort.
Instead, quarterback Colin Mathewson rewrote the West Potomac record book and the Wolverines battled the Titans until the final whistle.
Despite less-than-stellar conditions for West Potomac's pass-happy offense, the senior Mathewson completed 17 of 29 passes for a single-game school record 438 yards. He also tied a West Potomac single-game mark with five touchdown passes.
Mathewson overcame the elements to throw touchdown passes of 72, 70, 66, 25 and 20 yards. West Potomac trailed by 11 points, 23-12, in the second quarter before Mathewson connected with Daryl Copeland for a 20-yard score, cutting the deficit to four before halftime. A 72-yard scoring toss to Copeland and a 25-yard touchdown pass to DeAndre Essex gave the Wolverines a 31-23 lead in the third quarter, but T.C. Williams rallied to win, 38-37.
Mathewson said the performance was the best he ever had.
Copeland was the biggest beneficiary of Mathewson's record-setting performance. Copeland caught seven passes for 245 yards and four touchdowns. His 66-yard touchdown reception gave the Wolverines a two-point fourth-quarter lead.
"I thought they both had a really positive game and we saw flashes of what we thought we could be," West Potomac head coach Eric Henderson said in an e-mail in the Nov. 5 edition of the Gazette. "I think Copeland has a bright future and can play football at a high level. For Colin, his season was pretty rough with the injury at Chantilly so it was good that he was able to put together a complete game and get his team in position to win."
From a team standpoint, the game ended in another loss for the Wolverines. But the individual efforts of Mathewson and Copeland helped brighten an otherwise dreary season.
<b>West Potomac</b>
What happened in the fall: The football team opened the season with a 42-3 blowout of Mount Vernon, but dropped eight of its next nine games to finish the 2-8. West Potomac's other victory was a come-from-behind 14-7 effort against Robert E. Lee on Oct. 16. The Wolverines suffered several injuries at key positions, including losing their starting quarterback Mathewson for parts of four games.
Shawn Lee caught 29 passes for 309 yards and five touchdowns. DeAndre Essex tallied 26 receptions for 364 yards and three touchdowns. Running back Darel Lane led the team in carries (139), rushing yards (629) and rushing touchdowns (4).
Colin McConville led the team with 88 tackles, followed by Shakil White (66) and Stephen Howell (65). Matt Cunningham tallied a team-high 5.5 sacks, while Silas Agyenabg totaled five.
The boys and girls cross country teams each qualified for the state meet with a third-place finish at the Northern Region meet. Sarah Jane Underwood led the girls with a sixth-place finish (18 minutes, 14 seconds). Julianne Bigler finished seventh (18:17), Colleen Boyle 24th (18:59), Dale Lescher 27th (19:06) and Kelsey Rosenberg 36th (19:19).
The boys were led by Peter Coffey's 19th-place time of 16:04. Mark Hanak finished 22nd (16:08), Peter Stebbins 24th (16:09), Marc Lotterie 30th (16:15) and Max Muir 32nd (16:17).
The field hockey team won its first three games and finished 8-8. The Wolverines lost to T.C. Williams in the opening round of the Patriot District Tournament.
The volleyball team finished 3-13, losing to South County in the opening round of the Patriot District Tournament. The Wolverines defeated Washington-Lee, Mount Vernon and Falls Church.
The golf team defeated Mount Vernon for its lone win of the season.
What's next: The boys basketball team, which started 4-3, will host Annandale at 7:30 p.m. Jan. 8. Led by Daryl Copeland, Keevyn Hankins and Martez Redfearn, the Wolverines have an athletic mix of guards and forwards who can score. Head coach David Houston III has high expectations for the team.
The girls basketball team, which started 1-4, will travel to face Annandale at 7:30 p.m. Jan. 8. Talya Dawson and Ravyne McFail are the top offensive threats for first-year head coach Vincent Tate.
The boys and girls swim and dive teams will travel to face T.C. Williams at 6:30 p.m. Jan. 8. The girls started the season 2-2, while the boys are 1-3.
<b>Mount Vernon</b>
<bt>What happened in the fall: The field hockey team won the National District championship with a 1-0 victory over Washington-Lee on Oct. 20. Senior goalkeeper Sara Duncan recorded the shutout for the Majors, despite Washington-Lee attacking for most of the game.
The football team did not win a game, ending its season with a 34-29 loss to previously winless Wakefield. The 29 points were a season high for the Majors. Mount Vernon was edged by Stuart, 19-17, on Sept. 25.
The volleyball team did not win a match, ending its season with a loss to Yorktown in the opening round of the National District Tournament.
What's next: The boys and girls basketball teams look to repeat as National District champions. The boys started the season 5-2 with both losses coming against Paul VI. Skylar Jones, Jesse Konadu and Robert Smith are each averaging double figures for the Majors. Mount Vernon will travel to face Yorktown at 7:45 p.m. Jan. 8.
The girls team started 2-1 without the services of its top offensive threats — all-state guard/forward Tracy King and point guard Jalinda Venable, who was a first-team all-district selection last season. King was working her way back from a knee injury suffered last season and Venable was suspended from the team. If Mount Vernon can get both players back, the Majors would be in good shape toward defending their district crown.