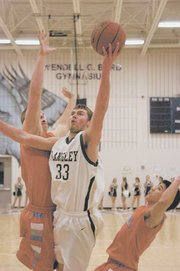 Langley High's Colin Jones could tell prior to Monday night's Liberty District boys' championship basketball game that he was on a shooting roll. Every shot the senior guard tossed up during pre-game warm-ups seemed to be going in.
"I was really hitting them," said Jones, sensing he might be in for a big game.
Sure enough, the 6-foot-3 inch shooting guard was in store for a huge night. Jones, in his team's biggest game of the season, shot well from the contest's opening tip-off and onward in leading Langley to a 58-40 title game win over Marshall. The postseason finals game took place at Reston's South Lakes High School.
Jones' terrific, long range shooting was a key factor in his team's tournament finals dominance and helped Langley capture its third straight district tournament crown. The top-seeded Saxons (19-3), who had beaten No. 8-seed Madison and No. 5 South Lakes to reach the finals against No. 2 Marshall, will next set their focus on the 16-team Northern Region tournament.
Langley, coached by Travis Hess, was scheduled to host Centreville High in a first round region playoff game on Wednesday night, Feb. 24, of this week. The two teams split a pair of games during the regular season with the Wildcats, members of the Concorde District, winning convincingly, 68-44, in a holiday tournament game on Dec. 30 before Langley returned the favor with a 54-36 home win on Jan. 27. Centreville is one of just three teams to have beaten the Saxons this winter – the other two being Edison, which defeated Langley 68-67, and district opponent Stone Bridge, which won 64-62.
"It will be a real close game," said Langley senior center Austin Kriz, of this week's region playoff encounter with Centreville. "We'll have to play our best basketball."
<b>AGAINST MARSHALL</b>, the Saxons were certainly close to playing some of their best basketball, especially in the second half. Following a driving, close range basket by Marshall's Danny McClain that got the Statesmen within 31-30 nearly halfway through the third quarter, Langley buckled down and put together the game's key scoring stretch. Following McLain's basket, the Saxons scored the game's next 11 points with four different players – David Adams, Joey Kiffe (14 points, 9 rebounds), Jones and Austin Vasiliadis – contributing points as Langley built a 42-30 lead with less than a minute remaining in the period. McLain, Marshall's outstanding, muscular 6-4 forward, finally ended the Langley scoring spree with a long range three-pointer from around the top of the key in the final minute of the quarter to make the score 42-33.
But Marshall never closed within 10 points the rest of the way.
"They're a good team and the No. 1 seed for a reason," said Marshall coach Bobby Forst, who has led the Statesmen (12-8) to a breakthrough season. "Kriz, Jones and Kiffe are three real good basketball players. Colin Jones was shooting the ball real well tonight."
Jones converted a game-high five, three-pointers on the night. The game's first basket, in fact, was a Jones trey from the top of the key. Later, he closed the opening quarter with a rebound follow-up basket to give the Saxons a 14-9 lead.
Jones scored eight points in the third quarter, including two treys, in helping the Saxons break the contest open. He went on to score 19 points and, during postgame ceremonies, was named tourney MVP.
Jones said the championship was a team effort.
"We're a real balanced team and we depend on each other to do our jobs," he said. "I think [the key] was our defense. We held them to 40 points."
Langley's Kriz was outstanding throughout the night as well, scoring on hard drives to the basket on offense and helping hold talented Marshall center Will Simonton (12 points, 2 rebounds) in check with stellar defense.
"They have a great post player in Will and I got [defensive] help from behind," said Kriz, who scored a game high 21 points with seven rebounds to earn a spot on the six-member all-tournament team. "We have won this year with team work. We don't have any huge scorers but everyone contributes."
Marshall, which reached the district tournament finals for the first time since the 2000-'01 season, received 12 points apiece from big men Simonton and McLain, and eight from senior guard Stanley Watts. Simonton and Watts made the all-tournament team. The Statesmen were scheduled to host Chantilly in a first round region playoff game on Wednesday.