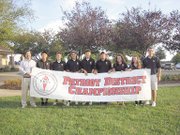 In the 2009 Patriot District golf tournament on Sept 23, the Lake Braddock Secondary School golf team clawed its way to a first place finish. Led by junior Kenny Towns, Lake Braddock won by 21 strokes over runner-up West Springfield High School at Twin Lakes Golf Course.
"Everyone really focused well," said Lake Braddock Coach Bill Hughes. "No one had any disasters and they all struck the ball well during the two rounds."
Hughes applauded Town's excellent play and then noted how well Sam Kim played during the tournament. "I am pleased with all of his hard work."
Towns won the medal for low score in individual play, shooting a 1-over 71-74-145. He bested runner-up Matt Spooner from West Springfield by five strokes.
"I just played steady golf," the Burke resident said afterward. "I did putt awful in the second round, though," he said, pointing at the six 3-putts on the card. "I tried to take advantage of my length off the tee to make up for the putting," he said.