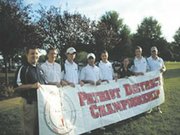 South County Secondary School senior golfer Nolan White is happy knowing that he's part of a historic season for the varsity golf team.
Posting a 7-0 record, the golf team finished its first-ever undefeated season, but the moment that stuck out to the senior was finally defeating its long-time nemesis, Lake Braddock Secondary School.
"In our last match against Lake Braddock, we beat them, but in my four years on the team, we never came close to beating them," White said. "I thought about how that was my final match in my high school career, finally beating Lake Braddock."
White more than did his part in the victory against the Bruins. He shot a 39 in the Stallions' 154-162 defeat of the Bruins, ending his winless drought against the rival.
On Sept. 28, the South County golfers took part in a light-hearted putting practice and reflected on their 7-0 accomplishment.
"We played so hard all year," sophomore Josh Carey said. "We went 6-1 last year and our only loss was against Lake Braddock. So we knew it was possible [to go 7-0], we just had to work for it."
Sophomore Mary Barbero, the first female golfer in South County history, echoed Carey's sentiments.
"It was a thought in my mind that we could go 7-0," she said. "I knew we had a strong team, but Lake Braddock was going to be our biggest challenge. We got to play them [at Laurel Hill golf course] and that helped us complete the undefeated season."
Like White, Barbero cited the victory against Lake Braddock as the defining moment of her season. She said that the vision of completing her round still plays in her head.
"Coming down the ninth hole against Lake Braddock was the best moment [of the season]," she said. "I had a lot of energy coming into that hole and I knew that we didn't have to shoot 'lights out' to beat them. It was great to have all the parents and team members cheering you on to finish strong."
Head Coach John Caulfield also took some time to reflect on what his team accomplished. He's proud of his young team's improvement over previous seasons.
"I came into the job three years ago and I knew the program had a lot of upside, " Caulfield said. "The best the school had ever done was tying for third in the district. We made changes to the program and my first year we went 5-2, then 6-1."
Adding to the team's accomplishment is the fact that it is one of the Patriot District's youngest squads.
"The [7-0] team had four sophomores, a junior and one senior," Caulfield said. "We have a good inventory of talent that is coming into their own. We've progressed each week and that's what you want to see. The scores are getting lower as the kids are getting better."
While the South County golfers savor their 7-0 season, the team is preparing for the Northern Region Tournament next week. The Stallions earned an automatic bye into the tournament by finishing first in the Patriot District during the regular season.
Now White and his teammates have their sights set on another goal — competing in the state tournament.
"I've never made it to the state tournament in all my years as a player," White said. "I'd really like to take the team there or go individually. It's our goal."