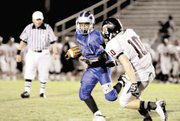 West Potomac head football coach Eric Henderson addressed his team before its season opener against Mount Vernon and told the Wolverines they had a chance to be something special. With playmakers on both sides of the ball, Henderson went as far as to say the talent at some positions was the best he'd coached at West Potomac.
The Wolverines blasted Mount Vernon, 42-3, in the opener, but have since run into problems. West Potomac has lost its last three games by a combined score of 108-49. The Wolverines lost their Patriot District opener to West Springfield, 38-28, on Friday.
Injuries have been one problem. Starting quarterback Colin Mathewson was hurt Sept. 17 against Chantilly and didn't play against West Springfield. Henderson said Mathewson is day to day.
West Potomac has been without standout receiver Will Rosenkranz all season. Henderson also said left tackle Matt Cunningham, right tackle Samlullah Ahmady are banged up.
"I've never seen anything like this," Henderson said.
Nik Dimitrijevic took over for Mathewson at quarterback. Against West Springfield, Dimitrijevic completed 14 of 29 passes for 235 yards and three touchdowns. He was intercepted once.
West Potomac (1-3 overall, 0-1 Patriot District) hosts South County (3-1, 0-1) at 7:30 p.m. Friday.
"Injuries hurt, we kind of lost our focus with Westfield (35-14 loss), we got our heads handed to us by Chantilly (35-7 loss) and the kids are unsure of themselves," Henderson said when asked about the team's struggles. "Now it's just a function of tightening down the discipline, make sure they do everything that they're supposed to do and hopefully through effort and pride, the kids will respond. If they don't, then we just keep grinding."
<b>Mount Vernon Scores Season-High Point Total</b>
The Mount Vernon football team lost to Stuart, 19-17, on Friday. The 17 points were a season-high for the Majors, who had been outscored 100-3 in their first three games.
Mount Vernon (0-4 overall, 0-2 National District) travels to face Centreville on Friday.
<b>Fort Hunt Basketball Tryouts Approaching</b>
Tryouts for the county 10-year-old traveling basketball team will be held from 5:45-7:15 p.m. Oct. 5 and 14, and from 7:15-8:45 p.m. Oct. 7 at Fort Hunt Elementary School.
County basketball clinics and tryouts are posted at FHYAA.org. If the child is 10 as of Oct. 1, 2009, he is eligible to try out for the county travel team.
The child must attend at least one tryout to be considered to the county team.
Contact Catherine Gorham at gorhamca@aol.acom with questions.