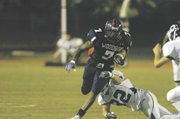 Following W.T. Woodson's 26-14 victory against Chantilly High School on Sept. 25, quarterback Connor Reilly said he prefers the cozy confines of a passing pocket to the free-wheeling style of a scrambling quarterback.
"I don't like to scramble, but if I have to, I will," Reilly said. "If it's going to help the team, then I'll do it."
Fortunately for the senior, Woodson's running backs are happy to pick up the slack, as they did against Chantilly, and transform the pass-heavy team into a formidable running squad.
"We always felt like we could run on them to the outside," senior running back James Johnson said. "We just wanted to get that break. We can make plays so we took advantage of that."
Johnson and senior running back Bertrand Ngampa capitalized on a Chargers defense that committed to the pass instead of the run.
The Cavaliers racked up a season-high 342 rushing yards with Ngampa earning 144 rushing yards and Johnson finishing with 118. Reilly had 80 rushing yards and only 111 passing yards.
"We have two great running backs and we felt like we had to come out and establish the run," said Head Coach Trey Taylor. "I thought they did a great job. It wasn't supposed to be all run, but it worked."
Both running backs also turned in highlight reel touchdowns from the exact same field location, for the exact same yardage.
Late in the fourth quarter, trailing 14-7, Ngampa took a pitch down the right sideline to score, breaking through one tackle on the way to his 55-yard rushing touchdown.
"When the cornerback had me wrapped up and I drove my legs through him, I opened my eyes and all I saw was green," Ngamba said. "I was just like 'go, go, go.' I learned from an old running back that when you run the ball, just think of the impossible."
The touchdown run was made sweeter by the fact that Ngamba has missed two seasons due to injury.
"I wanted to pick up my play and contribute this year," he said. "It was great to finally get in the end-zone for the team."
Johnson's run came with a little more flair as he slashed around the defensive line, dodged one defender and kicked away another who had wrapped his hands around Johnson's legs. He then ran 55 yards for a touchdown.
The talented running back was quick to credit his offensive line for the touchdown.
"[Ngampa] and I get breaks, but the offensive line works for us in the trenches," he said. "That's what it's all about, working hard to make plays."
Although the Cavaliers' running game played a key role in the victory against Chantilly, the passing game still defines the Woodson offense.
On Sept. 11, Reilly set a team passing record against Lake Braddock. Since then, the Cavaliers have been labeled as a pass-first offense.
Johnson, however, said he isn't worried about being a running back on a pass-centric team.
"I like [being on a passing team]. Reilly is a talented quarterback and they think that we will pass it all day," he said. "If [opposing teams] want to concentrate on Reilly, then we can make runs on them all day."
The Cavaliers improved to 3-1 on the season with the victory against Chantilly, but the team hasn't been able to find the offensive passing rhythm it possessed when it dropped 499 passing yards on Lake Braddock.
"Our passing game still isn't where it was when we last played Lake Braddock," Taylor said. "It's going to take more than just passing. It's going to take team effort to beat good teams."
The Cavaliers continue their season against Westfield High School (1-3) on Oct. 2.