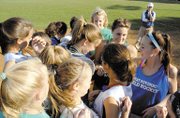 First-year West Potomac field hockey coach Mary Caye Schirf found out she had breast cancer four years ago. One year later, she climbed Mount Kilimanjaro.
Schirf is a practical joker, played field hockey at Slippery Rock University, used to be a competitive figure skater and insists she knows when someone is lying to her.
She also loves to talk.
It doesn't take long after entering a conversation with Schirf to notice her fun-loving attitude — or in some cases, hear about her life experiences — and her positive point of view. Schirf used her positive approach and a personal touch to win over the West Potomac field hockey team during her first season as head coach.
The Wolverines are 6-4 and travel to take on Wakefield today. But while the team has a winning record on the field, its Schirf's approach to coaching which has them enjoying the season.
"She's very dedicated. She really does a lot for us. She comes out here every day with our best interest at heart," midfielder Laura Reynolds said. "I think she puts us first, which is really important and really different for us as a team. We've had coaches in the past who just kind of [coached as if] it's what they do in their free time. For her, it's what she does. It's about love. I think the girls have really felt that and appreciated it."
Schirf, who coached at South Lakes in 2007 but did not return because she was taking care of her ill grandmother, remembers how she was coached during her high school and college days and wanted to take a different approach. Too many times it seemed like coaches were only interested in what happened on the field. Schirf wants her players to know she has their best interest at heart, which involves getting to know the players and how to help each succeed.
And keeping things positive.
"I spend half my time listening because that's what they need," Schirf said. "I think now in today's time, it's kind of like the parents are all working and it's really busy, so just to have somebody that listens to what you have to say [is important]. … I know the kind of coach that I don't want to be, because I had those coaches. That's just somebody that comes out and gives the time — I want a coach that gives me time, to let me show you what I can do for you. If I'm having a hard day, I'm going to be able to go to that coach and say, 'Listen, coach, this is the deal.'
"I'm trying to learn about these kids. I'm trying to do it differently than the way I was coached."
Schirf, who teaches elementary physical education and outdoor education, uses team-bonding techniques the players find amusing. On Tuesday, the coach had players stand on a tarp while folding and unfolding it, relying on each other for balance.
"It's never a dull moment with her," midfielder Kelsey Donovan said. "We're always having fun. I've never left here without laughing or smiling, which is completely different from last year."
Midfielder Toni O'Boyle said the environment around the team allows her to play free and loose.
"I'm more motivated because I know I won't be criticized if I make a mistake," she said. "It will be constructive."
It's not always about fun, though. The tarp exercise was preceded by a team conversation about Friday's 4-0 loss to South County. Schirf, who missed the game due to illness, was told the team appeared to lack competitive fire.
The coach also has hurt feelings. Rather than give in to a common right-of-passage theme by naming a senior captain, Schirf elected who she felt was the most deserving. That player was Donovan, a junior. Players voted on the other two captains and chose Reynolds and O'Boyle — both juniors.
Schirf said the team can continue its on-field success, which has been helped by leading goal scorer Rachel Browning and goalkeeper Livvy Mickevicius, if they believe in themselves. Schirf's coaching style could have a lot to do with whether the team can keep its confidence up.
For now, it appears to be working.
"She loves to talk," Donovan said of her coach while laughing. "It's not a problem. Last year [coaches were] like, 'Go run. Go stretch. Maybe do some corners. Let's do some of that, what do you call it, scrimmage?' And now it's like, 'Guys, let's talk about the game, let's do some team bonding on a tarp.'"