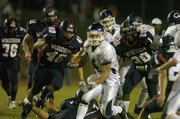 Last season, Chantilly High School running back Mike Farris spent his time playing as a wide receiver while 2008 first team All-Region player Torrian Pace spearheaded the Charger's running attack.
With Pace now at Youngstown State University in Ohio, Farris, a 5'9'', 160-pound senior, is back in his natural position and with the starting job, comes the demands of picking up where Pace left off.
"It's a lot different than when we had [Pace]," Farris said. "He weighed about 60 pounds more than I do. I have to have a hole I can rush through, while [Pace] could make something out of nothing."
Farris is undersized for a running back, but it hasn't stopped him from making an impact on the Chargers' offense.
While his style isn't as flashy as other northern region running backs, he grinds out yards for small gains and surprises defenders with dashes of speed.
He showcased these skills in the Chargers' 26-14 loss to W.T. Woodson High School on Sept. 25.
On one play, Farris smashed through Woodson's large defensive line, cut three times around defenders before breaking away from the pack, and ran 45-yards for a touchdown.
It was Farris' second touchdown of the night and his longest rushing touchdown this year. Farris finished the game with 113 rushing yards.
The Woodson game, however, was far from Farris' best performance this season.
AGAINST LANGLEY High School on Sept. 11, Farris pounded his way to the short-yardage gains he's known for and ran for four touchdowns in the Chargers' 42-20 victory.
"[Farris] has been developing well as a running back," Head Coach Mike Lalli said. "He's a different type of runner than we've had in the past. He's a little bit smaller, but he's faster than most people expect. He sees the hole well."
While Farris doesn't always break huge runs for touchdowns, he said he is happy to earn yards any way he can and credits the offensive line for getting him to the end zone.
"It's not just me [earning the yards], it's a lot of people," Farris said. "As long as we're moving the ball, we don't need to have a big play every time."
Chantilly quarterback Carson Romine said that his offense is confident it can rely on Farris to grind for yardage.
"If we want to get yards, we tell the line to push for [Farris]," Romine said. "Our line is just awesome. When we get the holes, [Farris] makes the plays for us."
Chantilly's defense had a strong effort against Woodson, holding Woodson's record-breaking quarterback Connor Reilly to 111 passing yards, but it was the Cavaliers' rushing attack that challenged the Chargers.
"We had a lot of missed tackles [at the end of the game]," Lalli said. "Their running backs made some pretty good plays. It was impressive."
ALTHOUGH the Chargers lost to Woodson, Lalli said the team is making progress and is looking forward to better efforts against Concorde District opponents.
"There are a lot of things we did well [against Woodson]," he said. "But [Woodson] made some plays on us and we had poor tackles. We made some plays, but we can be more consistent [on offense]."
Chantilly's (2-2) Homecoming game is on Oct. 2 against Hayfield Secondary School (3-1).