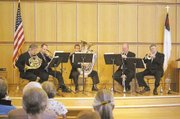 Concerts from Kirkwood opened its 2009-10 series with a performance by the National Symphony Orchestra Brass Quintet on Saturday, Sept. 18. The quintet played a variety of pieces ranging from the "Canzona per sonare no. 1" by Giovanni Gabrieli to the "Beale Street Blues" by W.C. Handy. The group has performed all over the Washington, D.C. area and has a wide range of repertoire from classical to contemporary and Dixieland to Pop.
Stephen Dumaine, the only tuba player in the NSO explained the intricacies of the tuba and demonstrated the highest and lowest notes and all those in between the four-octave range of the instrument. He then played "Ziganotschka" which displays the virtuosity of both instrument and musician.
The quintet brings together the five principal brass players of the National Symphony Orchestra at the Kennedy Center. Principal trumpet Steven Hendrickson's 2006 recording for MRS Classics features works from the Baroque to the contemporary. He is active in the Washington area as a recitalist and chamber musician, and serves on the faculty of the music department at the University of Maryland.
Principal horn of the NSO since 2000, Martin Hackleman began playing at the age of 16 and won the principal horn chair in the Calgary Philharmonic at age 19. His rise in the world of music has taken him from Vancouver to Berlin including the Far East and Europe while performing and recording, notably with the Empire Brass Quintet and the Canadian Brass. Thomas Cupples, who began playing at age 12, was principal trumpet of the Vermont Symphony Orchestra before joining the NSO as second trumpet.
Craig Mulcahy was he principal trombone of the Kennedy Center Opera House Orchestra for seven years before he joined the NSO in 2006.
The second of the five concerts in the Concerts from Kirkwood series will take place on Nov. 21, featuring the Kobayashi Duo with Laura Kobayashi, violin, and Susan Gray, piano. The Unlikely Trio, an ensemble of harp, flute, and oboe also made up of NSO musicians, will perform Jan. 16. The Second Annual Concerts from Kirkwood Young Artist Competition Winners Recital will take place on March 13, and the final event of the season will be the Vocal Arts Society Discovery Series with two sopranos and commentator on May 15.
All of these free concerts are offered at Kirkwood Presbyterian Church, 8336 Carrleigh Parkway, Springfield. To learn more, call 703-451-5320 or visit tinyurl.com/lbr6t9.