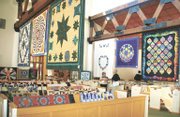 St. Francis Episcopal Church in Great Falls will host its annual Country Fair on Saturday, Oct. 3, from 10 a.m.-4 p.m. The event is free.
St. Francis has hosted the fair, rain or shine, for 30 years. This year's event will feature booths and activities for all ages, including:
* Quilt show — This year's exhibit, "Celebrating Religion and Culture," will feature quilts by some of the region's best-known quiltmakers;
* Quilt raffle—St. Francis quilters will raffle off a queen-sized quilt entitled "Celebration Baskets;"
* Children's games and activities — including the "Balloon Typhoon," the "Giant Slingshot," hayrides, and a petting zoo (petting zoo from 12:30-1:30 p.m.);
* Musical Performance — by the Difficult Run Jazz Band (beginning at 10 a.m.);
* Youth Talent Show — in the Big Tent (1-3 p.m.);
* Karaoke — singing in the Big Tent (3 p.m.);
* Silent Auction — with opportunities to bid on tickets to sporting events, restaurant gift certificates, spa services and many other items;
* Treasure Trove — a flea market featuring great bargains;
* Book Sale — with books, CDs, and other items;
* English Tombola — an old-fashioned tombola jar booth, with lots of surprises;
* Children's Ups and Downs — gently used clothing and Halloween costumes;
* Plant Sale — featuring plants, flowers, and garden accessories;
* Bake Sale — with cakes, cookies, and homemade frozen entrees;
* Food Tent — with burgers, hot dogs, and more (lunch served beginning at 11:30 a.m.)
St. Francis Episcopal Church is located at 9220 Georgetown Pike in Great Falls, near the intersection of Georgetown and River Bend roads. Plenty of parking is available on site. For more information, visit www.stfrancisgreatfalls.org or call the church at 703-759-2082.