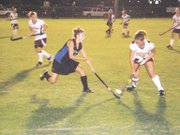 At the start of Fairfax High School's field hockey match with Oakton High School on Tuesday, Sept. 22, senior forward Valerie Clemens found herself in an unfamiliar place — on the bench.
Unhappy, but motivated by her newfound position, when Clemens hit the field early in the first half, she played like a woman possessed, helping to lead Fairfax (8-3) to a 1-0 victory.
"After I got the reality check that I hadn't been playing up to my potential, [the benching] fired me up," Clemens said. "My coaches confronted me about [my play] and we talked about how it's time to step up my game."
The playmaking forward was one of the reasons that the Rebels earned a 7-1 record to start the season.
In the Oakton game, Clemens returned to her normal play: breaking up passes, charging down the sidelines and helping to set up chances for teammates.
After a three-game slump, losing to Chantilly, Woodson and Centreville, Fairfax Head Coach Amber Beaudoin decided the team needed stronger performances from Clemens and others.
"I didn't start her and it really fired her up," Beaudoin said. "She had been starting all year and it was one of the changes I made for tonight's game. It's usually a wake-up call to get benched."
Clemens said that the losses played a role in why she and other starters found themselves starting the game on the bench.
"I lost a bit of motivation because I thought the season was going downhill," she said of the losses. "But [the losing streak] motivated us to come out and win."
Clemens' benching wasn't the only message that Beaudoin sent to her struggling team.
"We really needed a win," she said. "We made a lot of changes in our lineup. We moved people into different positions and tried to get some more people involved in the game."
The 1-0 victory also snapped a goal-scoring drought.
The Rebels outscored opponents 27-5 in the first eight games, but scored just one goal in the last three games.
Against Oakton, senior Lizzie Basalyga, the Rebels' leading goal scorer, converted on a deflected shot by Tiffany Balbuena to give Fairfax a 1-0 lead.
"[Balbuena] had a beautiful assist that went right over the goalies' left pad," Basalyga said. "I was able to sweep it in."
It's no secret that teammates Basalyga and Clemens share a friendly rivalry.
"It's a major competition between us," Clemens said. "Ever since we started playing together, we've worked well together. She got a goal tonight, but I'll get one in the next game [to match her]."
Basalyga echoed Clemens' sentiments.
"We're best friends so we always give each other a kick in the butt," Basalyga said. "Last season, we matched each other goal-for-goal in games. I'm hoping [my goal] will give her a kick in the butt and then she'll score."
The Rebels hope to take momentum from this victory and turn it into another lengthy winning streak. With the team's first Liberty District match on Thursday against Langley High School, Beaudoin said the win came at an opportune time.
"We need to get a good roll going," Beaudoin said. "It's all about momentum. You have to win one and build that momentum."