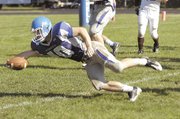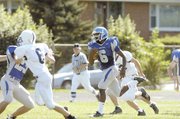 Bishop O'Connell's Saturday afternoon of dominance started with a special teams touchdown, continued with a hard-nosed running game and concluded with a message from head coach Steve Trimble.
Joshua Trimble's 95-yard kickoff return and the Knights' 262 yards and four touchdowns on the ground helped O'Connell to a 35-6 victory over St. Mary's Ryken at OHS. But while the win improved the Knights to 3-0 for the second time in as many seasons, Coach Trimble let his players know it's not good enough.
"One of our goals was to go undefeated in non-conference play, which we did," Trimble said. "But we did that last year, so we want to go beyond that. We want to come out strong in the conference."
Coming out strong might be the only chance for success in the uber-competitive Washington Catholic Athletic Conference. Last season, the Knights improved to 4-0 by defeating Gonzaga in their conference opener, but proceeded to lose four of their next five games.
This season, O'Connell opens WCAC competition Saturday against Good Counsel, which is consistently ranked as one of the top teams in the Washington D.C. metropolitan area.
I wanted them focused on that game," Trimble said of his postgame message, "because that team we played today is getting better every year, but they're not in the same league with Good Counsel."
St. Mary's Ryken (1-3) is a program in its second year of existence. Its players showed glimpses of talent but the team was overmatched by O'Connell.
O'CONNELL CONTROLLED the game with its double wing offense. The Knights didn't hide their intentions to run the football, consistently lining up with two tight ends. O'Connell attempted only one pass and spread carries to seven different backs.
Joshua Trimble led the way with 112 yards and one touchdown on 11 carries. His 13-yard touchdown run with 1:23 remaining in the second quarter gave the Knights a 21-0 advantage.
Trimble, son of head coach Steve Trimble, said he's used to splitting carries with other backs.
"You just try whenever you get it to do the best you can," the ball carrier said.
Greg Gadell rushed 12 times for 63 yards and two touchdowns. Dwaine Wintz got one carry for 50 yards. William Conner carried six times for 22 yards, Patrick Simms rushed four times for 13 yards, Jason Makoutz gained two yards on his lone carry and quarterback Nicholas Morabito rushed once for no yards.
"That's what we do. We're a double-wing team," Steve Trimble said. "We don't try to fool anybody with that. … We're going to line up and try to come after you. … We think we've got some pretty good running backs that we can mix the ball around and keep you guessing."
The O'Connell offensive line features one returning starter — 6-foot-6, 305-pound right tackle Nick Appel, who is verbally committed to the University of North Carolina. Michael Hogan is the Knights' left tackle, Dan Meehan the left guard, Trevor Flood the center and Ray Donahue the right guard.
"It's a really hard offense to run," Appel said of the double wing. "You've just got to be able to execute and hit the guy in front of you in the mouth."
Before things got going on the ground, Joshua Trimble got O'Connell on the board with his 95-yard kickoff return.
"I just ran up the middle," the junior said, "saw a gap and I just took it."
O'CONNELL TOOK a 14-0 lead when Conner scored on a 3-yard run with 5:19 to play in the second quarter, capping a 55-yard drive. The six-play march was set up when O'Connell's Nicholas Scallion intercepted Ryken quarterback Christopher Rixey.
The Knights took a 21-0 lead into halftime and extended their advantage on their first possession of the second half, when Gadell gave the team a 28-0 lead on a 14-yard touchdown run with 5:10 remaining in the third quarter.
Gadell also scored on a 4-yard run early in the fourth quarter, giving the Knights a 35-0 lead.
Ryken scored on the final play of the game when Rixey found Wayne Hicks for a 2-yard touchdown pass.
Rixey completed 11 of 20 passes for 137 yards and one touchdown. He was intercepted twice. The senior also led the team with 34 rushing yards.
Aaron Gofreed led Ryken with 79 receiving yards. He caught five passes.
Morabito completed his lone pass attempt for O'Connell, a 26-yard strike in double coverage to Gadell.
Defensively, Steve Trimble said defensive ends Michael Katz and Beau Fitzpatrick have stood out for O'Connell, along with safeties Trimble and Gadell.
Fitzpatrick had 10 tackles and three sacks against Ryken. Gadell had a first-quarter interception which halted a 14-play Ryken drive inside the O'Connell 20-yard line.