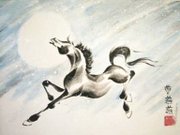 It's time to "Discover the World in Reston" at the Ninth Annual Reston Multicultural Festival on Saturday, Sept. 26, 11 a.m.-5 p.m. at Lake Anne Village Center. The Reston Multicultural Festival is a celebration of the diversity and welcoming community spirit that is found in Reston. This free annual event brings together the rich medley of cultures through music, entertainment, dress, food and cultural treasures from all over the world. All are invited to come dressed in their native attire and share their culture with neighbors.
This year, the three Festival stages will be enlivened by hundreds of performers from more than 25 cultural organizations and groups representing traditions from all over the world performing family-friendly entertainment on the World Stage, the Gallery Stage and the Global Stage. Each stage features continuous local and national performing groups throughout the day.
Along with performances on the three stages, the Festival will also feature arts and crafts, storytelling, ceramic-making workshops, interactive demonstrations and gallery activities such as Chinese brush painting by Tracie Griffith Tso, RCC's Chinese painting instructor.
Sample the many culturally diverse foods at the Global Café or shop in Global Market and take home a memento from artisans' work from neighboring lands. With a vast array of performing arts, family activities, ethnic cuisine and global arts and crafts, everyone will have something to enjoy.
<ro>Reston Multicultural Festival
<lst>Where: Lake Anne Village Center, 1609-A Washington Plaza, Reston
When: Saturday, Sept.26, 11 a.m.-5 p.m.
Parking: Off-site Parking is available at the Lake Anne and Forest Edge Elementary Schools, Brown's Chapel and the Tzu Chi Foundation. All are within a short walking distance to the Festival site.
The Reston Multicultural Festival is sponsored by the Reston Community Center and co-sponsored by the Reston Association, Lake Anne of Reston Condominium Association, and The Lake Anne Merchants Association with support from many other community organizations and businesses. Media sponsors include Reston Connection, The Observer and COMCAST.