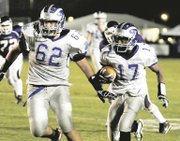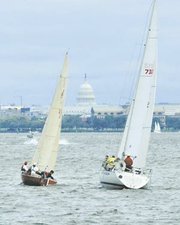 The West Potomac football team lost to Chantilly, 35-7, on Thursday, finishing non-district play with a 1-2 record.
After defeating rival Mount Vernon 42-3 in their opener, the Wolverines were outscored 70-21 in losses to Westfield and Chantilly.
West Potomac (1-2) opens Patriot District play Friday at home against West Springfield (1-2).
<b>Mount Vernon Football Falls to 0-3</b>
The Mount Vernon football team lost to Edison, 35-0, on Thursday, extending the Majors' streak of touchdown-less quarters to 12 to open the season.
Majors coach Tom Glynn said the Majors played well until late in the second quarter.
"The first quarter and a half we did a pretty good job," Glynn said.
Mount Vernon hosts Stuart on Friday.
<b>Registration Open for Bishop Ireton 5K</b>
Registration is open through Oct. 3 for the Inaugural Bishop Ireton Cardinal 5K Run to be held at 9 a.m. Oct. 4 at Eisenhower Avenue, in Alexandria.
Runners can register online at www.bishopireton.org or mail registration form with check to BIHS, Attn: 5K run/athletic boosters, 201 Cambridge Road, Alexandria, VA 22314.
Entry fee is $25 through Oct. 3 and $30 on race day.
Participants will receive a free T-shirt. Fruit, snacks and beverages will be provided after the race.
Each participant who brings a canned food donation will be invited to a post-race picnic.
Awards will be presented to overall winners and top three finishers in each age group.
Age groups are: 19 and under, 20-29, 30-39, 40-49, 50-59, 60-69, 70 and older.
For questions, e-mail Larry Clark, athletic boosters vice VP at clarkplpmr@aol.com.
<b>Leukemia Cup Regatta Raises $135K for Cancer Research</b>
The National Capital Area Chapter of The Leukemia & Lymphoma Society (LLS) held its 16th Annual Leukemia Cup Regatta on Sept. 12 with 100 fund-raising boats participating. The event, held at the Washington Sailing Marina in Alexandria, raised $135,000 for the fight against blood cancers, the leading disease killer of Americans under 20.
The Leukemia Cup Regatta recognizes race winners for several classes of sailboats, but the trophy is awarded to the team that raises the most money for blood cancer research and patient services. The Leukemia Cup trophy is engraved with the names of the top fund-raising boats and is displayed at the Washington Sailing Marina. For the third year in a row, the Dickson family was awarded this top honor for raising $26,000. The team included all five members of the family: Tim, Albie and their three sons Mac, Campbell and Brody. For more information about the Leukemia Cup Regatta Series, contact Loree Lipstein at the National Capital Area Chapter of The Leukemia & Lymphoma Society at 703-399-2900, or visit www.leukemiacup.org/nca.
<b>Wolverine Volleyball Swept</b>
<bt>The West Potomac volleyball team lost to Stuart, 3-0, on Monday.
The Wolverines host Mount Vernon on Sept. 30.