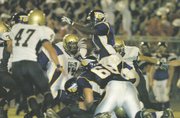 Senior linebacker Chris Lavery isn't the marquee player on the Lake Braddock Secondary football team, but in the Bruins' 10-9 victory against Westfield High School on Sept. 17, his leadership was as valuable as a highlight reel touchdown.
During the game's tense final minutes, Lavery was able to keep his defense cool and composed.
"I told [the defense] to stay calm," Lavery said. "We knew we could come back. We just had to keep playing and good things would happen."
With only a slim lead and three minutes left in the game, Lavery sealed the Lake Braddock victory by intercepting a bobbled pass by Westfield quarterback Danny Fenyak. It was Lavery's second interception of the night.
"[I] just gave it everything I had tonight," he said. "I'm really proud of the way [the defense] played."
Lavery's clutch defensive play earned high praise from Lake Braddock Head Coach Jim Poythress, who was pleased by the strong defensive outing.
"For him to come out and have a big game against a perennial power [is great]," Poythress said. "I'm very proud of him."
Lavery's heroics weren't the only highlights from the unsung defensive unit.
Down 9-3 in the fourth quarter with four minutes left, the Bruins needed another big play from their defense.
Senior defensive lineman Keli Doe delivered that play when he recovered a fumble deep in the Bulldog's territory, setting up the game-winning touchdown.
"It was intense," Doe said. "[Senior defensive lineman] Wasim Abbasi rushed in and deflected [a hand-off] and I dove for the fumble. It just felt great [to make the play]."
It seemed as though the Bruins' defense could do no wrong, holding Westfield scoreless for three straight quarters, blocking an extra point and allowing only three points.
The lone Westfield touchdown came from an interception return.
"We just played tight for 48 minutes," Lavery said. "We were a lot better than we were last week. We worked hard, made plays and gave it everything we had."
Aiding Lake Braddock's defense was its ability to shut down Westfield's rushing attack.
"We changed up the [defensive] scheme a bit," Lavery said. "They tried to run the ball and we stopped it."
Poythress said the Bruins' hard work in practice paid off and noted that his defense had improved since its surprising 43-42 loss to W.T. Woodson High School last week.
"We prepared all week fundamentally," Poythress said. "We worked on tackling, using our hands on the defensive line and playing a whole 48 minutes."
The win also boosted the confidence of the Bruins, who were caught by surprise in the Woodson loss.
"Last week, when [W.T. Woodson High] caught up, the kids looked like deer in a headlight," Poythress said. "To come out and prove themselves on the field of battle against Westfield is a tremendous feat."
Although the defense stumped Westfield's offense, Lake Braddock's high-octane spread passing attack was grounded for much of the game.
Junior quarterback Michael Nebrich completed 20 out of 38 passes and threw for 248 yards with five interceptions.
Fortunately for the Bruins, senior running back Osmon Mansaray chipped away at the Westfield defense with a strong rushing attack.
On the game-winning play, the Bruins handed the ball to Mansaray who sprinted through the Bulldogs' defensive line for a 25-yard touchdown, putting the Bruins ahead 10-9.
Poythress said that Mansaray, at 5-foot-8-inches and 160 pounds, is deceptively strong and hard to stop.
"[Mansaray] is a tremendous athlete," Poythress said. "He is small in stature, but can bench press over 300 pounds and squat 450 pounds. He looks like a little guy but he's all muscle."
Mansaray finished the game with 47 rushing yards and a rushing touchdown.
Lake Braddock is now 2-1 on the season. The Bruins' next game is at T.C. Williams High School (2-1) on Sept. 26.