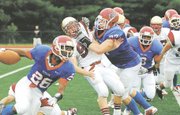 With the start of the 2009 season just days away, T.C. Williams football coach Dennis Randolph stood near the field's edge at Parker-Gray Memorial Stadium and spoke of his team's impending opener against Robinson.
The Titans would be without starting quarterback Joe Hargrove, who fractured his right, non-throwing wrist during a scrimmage. Randolph appeared confident moving forward, but the loss of Hargrove was yet another obstacle for a program which hasn't experienced a winning season since 1995.
Prior to discussing the team's quarterback situation, Randolph, entering his third season with T.C. Williams, shared an observation of how Titan football players handle adversity.
Or don't handle it.
"What I've found since I've been here is that these kids do well when everything's going their way," Randolph said on Aug. 31. "And then when something happens, they just implode and say, 'here we go again.'"
Fast forward to Sept. 17.
BACK ON ITS HOME field, T.C. Williams was locked in a battle with Oakton, a team which reached the Group AAA, Division 6 state semifinals in 2008. The Titans' defense was stout, but the offense struggled as Hargrove remained sidelined. Limited in the passing game, T.C. Williams managed seven points and trailed late in the fourth quarter.
T.C. Williams quarterback John Bray, attempting to bring the Titans back, misfired with a pass which Oakton defensive back Akil Jones intercepted near midfield. Oakton, leading 9-7, took over possession with good field position with less than two minutes remaining in the fourth quarter.
This is when the Titans were supposed to say, "Here we go again."
Instead, T.C. Williams linebackers Damien Benton and Chelo Abbe made a play which not only changed the outcome of the game, but could have a positive effect toward the revival of a once-dominant program.
Benton forced Oakton quarterback Jimmy Boone to fumble on first down and Abbe scooped up the loose ball and scampered 50 yards for a go-ahead touchdown.
Oakton had two more possessions, but each was thwarted by a T.C. Williams interception as the Titans held on for an improbable 15-9 victory.
"I was playing my position, the ball landed in my hands and I ran for a touchdown," Abbe said. "In my mind, when I got the ball, I thought people were behind me so I just ran as fast as I could."
What was Randolph thinking during the play?
"Run like hell," he said.
While Abbe's fumble return caused a rush of emotion for the Titans, Randolph said he hopes it has a lasting influence on the program.
"The biggest thing about some of these kids is they say they want to win and they work hard and do all the right things," the coach said, "but then in certain situations they kind of — and I don't want to say quit, because they don't quit — but it's like, 'Oh, here we go again.' … I think — I hope — that this will show them that, hey, no matter what the circumstances that you have a chance."
WHILE THE TITANS (2-1) were ecstatic about the win, the Cougars (2-1) were left to ponder what could have been.
We "needed to secure the ball at the end and we get out of there" with a victory, Oakton coach Joe Thompson said. "We didn't secure the ball and hopefully we learn from our experiences. … [Boone has] played well all year for us. We really haven't turned it over up until now. Unfortunately for him it was bad timing. He's been real good, real solid and it's just a real bad break for him. But you've got to secure the ball to win the game."
Boone completed 9 of 21 passes for 73 yards, but turned the ball over on each of Oakton's final three plays of the game.
Oakton led 9-7 at halftime and each team's best second-half scoring opportunity ended with a missed field goal attempt.
T.C. Williams marched down to the Oakton 11-yard line on its opening drive of the third quarter, but came up empty on a 28-yard field goal try. The Titans offense didn't cross midfield the rest of the game.
"I thought we played well enough to win until the last minute, 50 seconds of the game," Thompson said. "There are no positives for losing."
Oakton struck first, taking a 6-0 lead when running back Mike Greene scored on a 23-yard run up the middle with 10:34 remaining in the second quarter. The Cougars increased their lead to 9-0 when Ray Goins booted a 42-yard field goal with 2:43 left in the half.
T.C. Williams answered with its lone offensive touchdown on the ensuing possession. Robert Carter's 9-yard touchdown run capped a five-play, 58-yard drive with 1:21 remaining in the half. Carter, part of a three-quarterback rotation with Cortez Taylor and Bray, looked to pass on third-and-five, but ended up scrambling to his left for a score.
Defenses dominated in the second half, and T.C. Williams' D eventually won the game with Abbe's fumble return. The Titans held Oakton to 178 total yards.
Benton's evening included a forced fumble, a fumble recovery and an interception for the Titans.
"THE MAIN FOCUS was to come out in the second half and don't give up, no matter what the score is," Benton said. "I don't think [anybody] ever believed in us, for real. The only person that believed in us was us."
Thompson sounded like a Titan believer after the game.
"Has anybody watched T.C. lately? The last two years we've played them they've been a menace," the Oakton coach said. "They're a very good football team. Their coach does a great job. I don' know whey they don't get more respect."
Oakton defeated T.C. Williams, 39-23, last season.
Carter rushed 12 times for 69 yards for T.C. Williams. Taylor carried 20 times for 63 yards. Aziz Coker caught three passes for 38 yards and Bennie Jenkins caught one pass for 30 yards.
Bray completed 5 of 13 passes for 77 yards. He was intercepted twice. Carter was 1-for-3 for 30 yards.
Thirty-five of T.C. Williams' 51 plays were rushes and 121 of the Titans' 228 yards came on the ground.
Next up for T.C. Williams is the Titans' Patriot District opener against Lake Braddock at 1 p.m. Saturday at Parker-Gray Memorial Stadium.
"We're trying to change things around here at T.C.," Abbe said. "We're not going through another losing season."