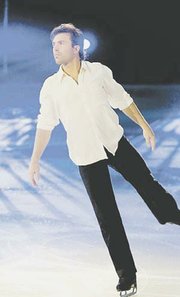 Two-time Olympian and Fairfax resident Michael Weiss knows how expense it can be to train for elite figure skating competitions.
The cost of skating coaches, plane tickets, costumes, ice time and hotel rooms easily exceed what young skaters' families can afford. Through the Michael Weiss Foundation, Weiss is helping to ease that burden.
"[The Michael Weiss Foundation] was an idea of mine that I started five years ago," Weiss said. "I was always thankful when someone would help me [with skating expenses]. I wanted to be able to use my notoriety and resources to help [young skaters]."
On Sept 26, at 5 p.m. Weiss and an all-star cast, including Olympic champions Brian Boitano, Sarah Hughes and Ilia Kulik, will perform at the Kettler Capitals Iceplex in Arlington to raise money for the foundation through its annual Ice Champions Live show.
"All of the skaters [performing] have been in the same situation [as young skaters]," he said. "We know what it's like and we wanted to give back to skating."
It's important to support the young athletes and their parents, Weiss said.
"Both of my parents worked hard to keep up with my skating expenses," Weiss said. "It was close to $50,000 a year. It's hard for parents to make ends meet and then afford their kids' skating careers."
In five years, Weiss said his charity has donated $215,000 to help young skaters. The annual skating show is the charity's main fund raiser.
"We do the show every year," Weiss said. "It started out in Reston, but it outgrew that venue and now it is at [Kettler Capitals Iceplex]."
The high-profile skaters perform for free, he said.
"It would be pretty expensive to get [skaters] like Boitano and Hughes here, but they do it for free."
The show also features area athletes who benefit from the foundation's work.
One of these skaters is Armin Mahbanoozadeh of Great Falls, who is competing on the Grand Prix level.
Mahbanoozadeh currently is training for an upcoming competition in China with his trainer Traci Coleman. Coleman has worked with Mahbanoozadeh for 11 years and said that the young skater is among the best in the nation.
"It's hard to compare him with anyone because he's above them," Coleman said. "He's an elite level skater and he's on the Grand Prix circuit now."
That level of competition comes at a steep price and Mahbanoozadeh said the foundation is helping him to achieve his skating goals.
"I'm just so thankful for everything that the Michael Weiss Foundation does," the 18-year-old skater said. "It's expensive for costumes, travel and coaches so anything [the foundation] can do to help is appreciated."
Mahbanoozadeh started skating when he was 9, around the time that Weiss was entering the prime of his career.
"I've watched [Armin] learn single jumps and develop at the national level," Weiss said. "He's in that time of his career where he could get to the Olympic level."
On Sept. 26, Weiss and Mahbanoozadeh will share the ice.
"I've practiced with [the professional skaters] and I was just shocked," said Mahbanoozadeh, a two-time Junior Grand Prix medallist. "I couldn't believe I was on the same ice as them and was going to perform with them."
Weiss is certain that Mahbanoozedeh and his co-stars will put on a top notch show.
"It's unheard of to have that much talent in one building," Weiss said. "It's going to be a phenomenal show."