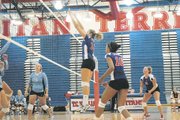 If the blocks and kills aren't enough to determine whether Kate Whitmire is playing well, the ear-to-ear grin on the face of the T.C. Williams freshman is a dead giveaway.
It was all smiles for Whitmire and her Titan teammates on Sept. 16 when T.C. Williams defeated Mount Vernon 3-0 (25-5, 25-8, 25-14) at The Garden. Whitmire, a 6-foot outside hitter, finished with 11 kills, five block and kills, and four aces.
"Whitmire was killing them with the block and just capitalizing on their mistakes," Titans coach Rhea Butler said. "Whitmire tore it up. She was our star tonight."
One of Whitmire's most noticeable reactions comes after a successful block.
"Every time I get a point, I have the biggest smile on my face," Whitmire said. "I come in and try to share the energy with the team. I hope they get the vibe from it, too. … It's just something in me that when I get a block, everything comes into it."
Butler was pleased with the way her team took care of business. The coach had said the Titans had a tendency to play to an opponent's level. Facing a winless Mount Vernon team, T.C. Williams held the Majors to a single-digit scoring output in each of the first two games. Butler said the Titans' ability to finish off the Majors should benefit T.C. Williams.
"We did what we came to do. We knew this was a game we could win," Butler said. "Even if a team is not at our level, we still have the capability of playing well."
T.C. Williams was swept by Oakton on Tuesday and fell to 2-4. The Titans host Lee on Thursday.
<b>Registration Open For Bishop Ireton 5K</b>
Registration is open through Oct. 3 for the Inaugural Bishop Ireton Cardinal 5K Run to be held at 9 a.m. Oct. 4 at Eisenhower Avenue, in Alexandria.
Runners can register online at www.bishopireton.org or mail registration form with check to BIHS, Attn: 5K run/athletic boosters, 201 Cambridge Rd., Alexandria, VA 22314.
Entry fee is $25 through Oct. 3 and $30 on race day.
Participants will receive a free T-shirt. Fruit, snacks and beverages will be provided after the race.
Each participant who brings a canned food donation will be invited to a post-race picnic.
Awards will be presented to overall winners and top three finishers in each age group.
Age groups are: 19 and under, 20-29, 30-39, 40-49, 50-59, 60-69, 70 and older.
For questions, e-mail Larry Clark, athletic boosters vice VP at clarkplpmr@aol.com.
<b>Leukemia Cup Regatta Raises $135K for Research</b>
The National Capital Area Chapter of The Leukemia & Lymphoma Society (LLS) held its 16th Annual Leukemia Cup Regatta on Sept. 12 with 100 fund-raising boats participating. The event, held at the Washington Sailing Marina in Alexandria, raised $135,000 for the fight against blood cancers, the leading disease killer of Americans under 20.
The Leukemia Cup Regatta recognizes race winners for several classes of sailboats, but the trophy is awarded to the team that raises the most money for blood cancer research and patient services. The Leukemia Cup trophy is engraved with the names of the top fund-raising boats and is displayed at the Washington Sailing Marina. For the third year in a row, the Dickson family was awarded this top honor for raising $26,000. The team included all five members of the family: Tim, Albie and their three sons Mac, Campbell and Brody.
For more information about the Leukemia Cup Regatta Series, contact Loree Lipstein at the National Capital Area Chapter of The Leukemia & Lymphoma Society at 703-399-2900, or visit www.leukemiacup.org/nca.