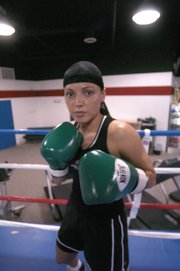 Most post-pregnancy moms would refuse to divulge their weight to strangers, but for Jennifer Salinas, you can see it on the upcoming boxing card set for Sept. 26 at the Patriot Center in Fairfax.
Fighting out of Manassas, the 5'3'', 124 pound featherweight is one of the region's premier boxers. In her eight-year career, Salinas has accumulated a 10-1 record with four knockouts.
As the only female trainer at L.A. Boxing in Chantilly and Reston, Salinas spends most of her time in the ring, but her training regimen for an upcoming fight with Caitlin Dance (2-5, 1 KO) includes one ritual she never fails to follow.
"I wake up at 4:40 a.m. and change my son's diaper," Salinas said. "It's always packed, so I make sure to do it first."
Salinas juggles raising her three children — stepdaughter Leticia, 10, Jaida , 5, and 8-month-old John Paul — while attempting to secure a title bout.
"It's tough balancing school, family time and boxing," she said. "But it's worth it."
Balancing tough life situations isn't foreign to Salinas. Her boxing career has been full of challenges such as overcoming sexism in the boxing ring and returning to fighting shape after two pregnancies.
At 19, Salinas stepped into a boxing gym despite fears of ridicule from male boxers.
"I never felt like I belonged [in any sport] until I started boxing," she said. "I always saw myself as a boxer, but I was scared of being laughed at because I was a girl."
The laughs stopped when Salinas proved she wasn't boxing for her health.
"They didn't take me seriously in the beginning," she said. "I was the only female in the gym. A lot of people take boxing classes to lose weight, but I wanted to fight."
Salinas chased her boxing dream as far as Las Vegas, where she trained under Floyd Mayweather Sr., but said the training didn't work out the way she hoped it would.
"It was hard and it wasn't my time," she said. "I jumped in too soon."
Salinas returned to Virginia and enlisted the help of former boxer and local boxing instructor Daniel Attah.
"He's a world-class fighter and I trust him with my career," she said. "I've tried the best-of-the-best and I wasn't happy with it. If I had an opportunity to go back to Vegas, I don't think I'd take it."
The obstacles didn't end with leaving Mayweather and Las Vegas. Two pregnancies hindered Salinas' boxing breakthrough.
"It seemed like every time my career took off, I would get pregnant," she said.
Although she didn't stop her training, Salinas said she worked out while she was pregnant.
"I would work out until the day I was due," she said. "You could tell I was pregnant while I was working out, but it made it easier [to come back]."
With support from her husband, Ernesto Guevara, and her family, Salinas never lost sight of her boxing dream.
"It's hard having a family and boxing," she said. "But [Ernesto] provides for the family, my mother looks after the children and I look after my boxing."
Some in the boxing community questioned whether Salinas could return to the ring. Attah, however, said he is training a winner.
"In the past she was not taking her career seriously, but she is [focused] with me," Attah said. "She's very talented. She's one of the best female fighters out there. If she wants to, she can be the best female fighter out there."
In her return match after giving birth to Jaida, Salinas proved her critics wrong with a victory.
"I was in the ring three months after I had my daughter and I won," she said. "I lifted her up and showed her to the crowd. I was yelling at them, 'I'm still here!' I had six-pack abs and it just showed everyone that I was serious about boxing."
Salinas successfully returned to the ring after her second pregnancy in May 2009, winning her match in the third round with a knockout.
The May victory is one reason Ice Promotions Publicist Brian Bishop believes that area boxing fans will be intrigued by the Sept. 26 match, which also features local boxer Jimmy Lange on the main card.
"She's got a hell of a jab and she's expecting to compete for a title shot soon," Bishop said. "Her story is just incredible. We're expecting a great fight from her."
Salinas said she hopes she inspires other women to take up the sport for health and competitive reasons.
With the support of her family and trainer, Salinas is striving for greater success in the featherweight division.
"I think about [my family] when I'm in the ring," she said. "I want to make sure that all this training and time away from them is worth it. My family makes me stronger. If I wasn't a mother, I don't think I'd be [this] dedicated to boxing