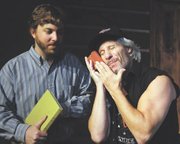 The Little Theatre of Alexandria turns to a tried and true, reliable comedy for its latest pleasurable piece of foolishness that generates loads of laughs five performances a week.
In "The Foreigner," playwright Larry Shue taps into the very human phenomenon that sees people giving lots of leeway to foreigners who may not know the niceties of local customs or understand the local language. Just how much can you get away with if everyone in the room thinks you don't know any better? And just how much might you learn if no one watches what they say in your presence? Shue's pretend-foreigner finds out in this contrived but delightful comedy.
Matthew Hartman combines charm and comedy as the title's "Foreigner." He's nearly sluggish in the early scenes when he's supposed to be so shy and withdrawn that he's panicked at the thought of conversations with strangers. But, when John McCracken, as his host for a three-day stay in a backwoods fishing lodge in Georgia tells the innkeeper (the high-energy comedian Mollie Wise) that he doesn't speak a word of English, his comic engine begins to get up a real head of steam.
The role gives Hartman plenty of opportunities for physical comedy, often bordering on classic mime. A highlight of the first act finds him matched with Nathan Tatro as a bright fellow whose been convinced that he is actually a dim bulb in an evil plot to steal his inheritance for nefarious purposes. The two engage in a delightful exchange of moves and expressions. Later, Hartman adopts a pretend-patois as his character fakes learning English in order to communicate with his new friends. The patois will sound familiar to fans of Robin Williams in the old television series "Mork and Mindy." That may be a bit distracting but is not an unreasonable comic choice for Hartman to have made.
Hartman remains the focus of the piece throughout the evening and has the skills to pull it off while others contribute in selected scenes. Wise and Tatro are impressive as are Nicole Goeden, as an innocent young woman being victimized by a plotting Michael Reid, and David James, as a bigot with KKK ambitions.
Director Frank Pasqualino keeps the pace brisk and makes sure that the focus for each scene is clearly established precisely where the greatest comic payout can be had. The script itself is weighted down in the early going with lots of plot information that the audience must absorb, and Pasqualino can't quite overcome that burden. But he gets his cast beyond that and pulls out as many stops as possible for the second act.
New to the Little Theatre's stage is set designer/painter Erin Cumbo who continues the company's tradition of impressive, highly detailed sets. She has been tapped to design two more of the company's productions this season, the main December show, which is the holiday version of the "Plaid" series, "Plaid Tidings," and a more adult show, "Dog Sees God," that will play as an after-hours offering on the same evenings.
***
Brad Hathaway reviews theater in Virginia, Washington and Maryland as well as Broadway, and edits Potomac Stages, a web site covering theater in the region (www.PotomacStages.com). He can be reached at Brad@PotomacStages.com.