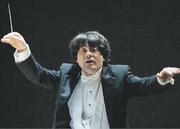 The Peasant celebrates with song and dance
The pleasure of the rich harvest,
And full of the liquor of Bacchus
They finish their merrymaking with slumber.
— Antonio Vivaldi
Oh! The inspiration that springs from Nature! Throughout the ages Mother Earth and all Her elements have inspired poets to their pens, artists to their canvas and composers to their music. This year the Alexandria Symphony Orchestra celebrates this link between music and nature all season long with music by Vivaldi, Beethoven, Brahms, Debussy, Mahler, as well as Orff's Carmina Burana.
The ASO's 2009-2010 "Inspired by Nature" season begins on Saturday, Sept. 26 at the Rachel M. Schlesinger Concert Hall and Arts Center with Seductive Soundscapes. This evocative and dynamic program begins with "Summer' and "Autumn" from Vivaldi's Four Seasons. Inspired by four paintings of the seasons by artist Marco Rici, these colorful concertos seek to bring each season to life. Vivaldi's masterfully descriptive music and accompanying sonnets were conceived to be an artistic tour de force, marrying the arts of painting, poetry and music. This extraordinary music was as new and exciting to people in Vivaldi's time as the release of an eagerly anticipated movie is for us today. In fact, if he were writing today I am sure he would have a rich career as a film composer!
Vivaldi's classic Four Seasons can be appreciated purely as music — the irresistibly toe-tapping, humming along, smile inducing music that it is. His sonnets and references to Rici's paintings just make it all that much more enjoyable! Depictions of a faithful dog barking, the swarms of flies and hornets, walking precariously on ice in winter are not only ingenious but just plain funny! We will provide you with Vivaldi's sonnets so that you can revel in the music/sonnet relationship and find the playful and poignant stories for yourselves. All four of the Four Seasons will be presented throughout our "Inspired by Nature" season. No matter how many times I have conducted or performed this music I never tire of its special charms and addictive beauty.
Our opening night Seductive Soundscapes program continues with Respighi's Pines of Rome. I am always struck by the majesty of the pine trees in Rome and no other composer has so beautifully and movingly captured their mystery with music as has Ottorino Respighi. This is highly evocative orchestral writing indeed! Orchestral musicians, conductors, and audiences love to play and hear this music because, as we say in the business, "it makes the orchestra 'sound'". Respighi calls for an extra brass choir to be offstage for added effect!
Back-by-popular-demand, Carlos Rodriguez will be performing Gershwin's rousing Piano Concerto in F, adding an exclamation point to this exuberant opening night. I look forward to seeing you at this glorious beginning and throughout the season as we bask together in the celebration of music "Inspired by Nature!"
See you at the Concert!
Kim Allen Kluge
Music Director, Alexandria Symphony Orchestra
<ro>Where & When
<lst>The ASO performs music of Vivaldi, Respighi, and Gershwin Saturday, Sept. 26 at 8 p.m. The concert takes place at the Rachel M. Schlesinger Concert Hall & Arts Center (NOVA Alexandria Campus, 3001 Beauregard St.). Tickets start at $5 for youth (8-18), $20 for students, $35 for seniors, and $40 for adults. Free parking. Visit WWW.ALEXSYM.ORG or call 703-547-0885.